Eating Out
(2004)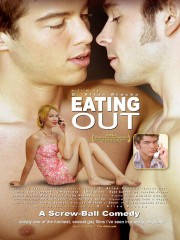 Tickets & Showtimes
Eating Out Trailers & Photos
Movie Info
Caleb is a hunky political-science major with a fondness for aggressive girls. Gwen is an aggressive girl who falls for gay acting boys. It's a match made in therapy. In a plan hatched by his crafty gay roommate Kyle, Caleb finds himself pretending to be gay to woo Gwen, but their scheme is thwarted when Gwen decides that Caleb would be the perfect catch for her own gay roommate, Marc--the object of Kyle's affection. Caleb is faced with a confusing proposition. Gwen wonders if she'll ever find a straight guy. Marc can't tell why the new guy is so hot and cold. And Kyle watches the two loves of his life leave him behind.
more
Watch it now
Cast
News & Interviews for Eating Out
Critic Reviews for Eating Out
Audience Reviews for Eating Out
Spoilers are plentiful, not that it matters. Caleb, unhappy with his sex life, is convinced by his gay flatmate Kyle that the best way for him to find a woman is to pretend to be gay. Apparently, since coming out, Kyle has been hounded by hundreds of eligible woman all desperate to 'turn' him and get inside his pants, and so thinks this is the obvious solution for Caleb. Please, credit me with some fucking intelligence. Not only do I find the notion of being able to 'turn' someone, gay or straight, completely vacuous, but it's also offensive that the film shows such little respect for women. It's this kind of simplistic, clichéd thinking that gives GLBT cinema a bad name. [Swiftly steps off the soapbox]. Anyway, so Caleb meets the woman of his dreams, Gwen, but, surprise, surprise, she believes him gay and so sets him up with her GBF (gay best friend) Marc. Caleb agrees to go out with him in order to try and get closer to Gwen. In one of the most successful scenes (everything before and after hinges on it), Gwen has phone sex with Caleb whilst Marc goes down on him. This moment in the film is surprisingly well performed, is reasonably witty and successfully edited, but it is also (forgive the pun) very hard to swallow. Sorry, couldn't help myself there. This moment apart, there's very little to distinguish the film from any of the other 'straight guy pretending to be gay' films of which there are now so many they're practically a sub-genre. In addition, Eating Out is amateurishly filmed, badly acted in the majority and completely predictable. The ending where the four leads confess their true feelings for one another is not only ridiculous, it is, in the case of Marc and Kyle, completely out of character. Are we really expected to believe that Marc has been harbouring feelings for 'plain' Kyle (who is of course very good looking, just less of a muscle freak show than Caleb and Marc) all along? Hampered by poor dialogue, the only other saving grace is the one-liners from Caleb's little sister, but these are unfortunately delivered by an actress who clearly has infinitesimal talent.
½
I love the clever script!!!! But acting wise it wasn't as good, but still wickedly funny
Discussion Forum
Discuss Eating Out on our Movie forum!
News & Features