Enchanted
(2007)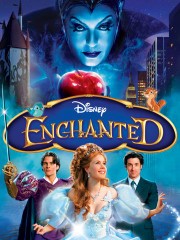 TOMATOMETER
AUDIENCE SCORE
Critic Consensus: A smart re-imagining of fairy tale tropes that's sure to delight children and adults, Enchanted features witty dialogue, sharp animation, and a star turn by Amy Adams.
Tickets & Showtimes
Enchanted Trailers & Photos
Movie Info
A classic Disney fairytale collides with modern-day New York City in a story about a fairytale princess from the past who is thrust into present-day by an evil queen. Soon after her arrival, Princess Giselle begins to change her views on life and love after meeting a handsome lawyer. Can a storybook view of romance survive in the real world?
more
Cast
News & Interviews for Enchanted
Critic Reviews for Enchanted
Audience Reviews for Enchanted
A guilty pleasure for those who like being overdosed on clichés. Made me laugh heartily (read: spit my dinner onto my screen). But a lot of the "evil queen's" scheme was frustratingly illogical.
Starting off predictable in it's own fairytale world, "Enchanted" makes you believe that you about to enter a classic disney fable, whether you like it or not. It even seems that way when the characters enter our world, until the self-awareness and hilarity ensues. About halfway through this film is when I started to believe this was going to be a great film. "Enchanted is very well-written and the story (although predictable) is very charming and a blast to watch. As predictable as it is, it seems fresh in almost every way. I really really liked this film. From it's goofy humor to it's sweet conclusion, "Enchanted" is great!
Enchanted Quotes
Narrator: And they all lived happily ever after.
Queen Narissa: All this talk of true love's kiss it really does bring out the worst in me. You know if I'm going to remain queen I need a story for when I get back home. Hmm. what if a giant beast showed up and killed everyone, and poor defenseless Queen Narissa. she just couldn't save them? [points to Giselle] Let's begin with the girl who started it all shall we?
Robert Philip: Over my dead body!
Queen Narissa: Alright I'm flexible. [grabs Robert]
Robert Philip: [screans] Let me go. [screams]
Queen Narissa: [roars and stomps out of the building] Come along Giselle I don't want you to miss this ending. [smashes window]
Queen Narissa: Speciosous-formosous-preclareus.
Nathaniel: My most adored queen where did you send her?
Queen Narissa: To a place where there are no happily ever afters.
Princess Giselle: (screams)
Queen Narissa: (cackles)
Nathaniel: For the nice lady. From a secret admirer.
Robert Philip: A secret admirer... How come people keep giving you free stuff?
Princess Giselle: What is it?
Nathaniel: It's an apple martini, miss.
Robert Philip: Apple mar-... Ooh! It looks yummy.
Robert Philip: Yeah, be careful. It's poisonous.
Princess Giselle: You're joking.
Robert Philip: Yeah. *Laughter* They'll creep on you though. I'd be really careful.
Discussion Forum
Discuss Enchanted on our Movie forum!
News & Features