Ernest & Célestine
(2014)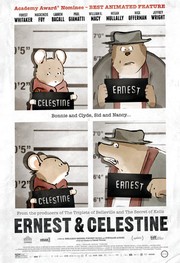 Ernest & Célestine Trailers & Photos
Movie Info
Deep below snowy, cobblestone streets, tucked away in networks of winding subterranean tunnels, lives a civilization of hardworking mice, terrified of the bears who live above ground. Unlike her fellow mice, Celestine is an artist and a dreamer - and when she nearly ends up as breakfast for ursine troubadour Ernest, the two form an unlikely bond. But it isn't long before their friendship is put on trial by their respective bear-fearing and mice-eating communities. Fresh from standing ovations at Cannes and Toronto Ernest & Celestine joyfully leaps across genres and influences to capture the kinetic, limitless possibilities of animated storytelling. Like a gorgeous watercolor painting brought to life, a constantly shifting pastel color palette bursts and drips across the screen, while wonderful storytelling and brilliant comic timing draw up influences as varied as Buster Keaton, Bugs Bunny and the outlaw romanticism of Bonnie and Clyde. Bringing it all together is the on-screen chemistry between the two lead characters - a flowing, tender and playful rapport that will put a smile on your face and make your heart glow. Based on the classic Belgian book series by Gabrielle Vincent, Ernest & Celestine is winner of the Cesar Award for Best Animated Feature and numerous festival prizes. (c) GKids
more
Watch it now
Cast
News & Interviews for Ernest & Célestine
Critic Reviews for Ernest & Célestine
Audience Reviews for Ernest & Célestine
½
This beautiful little film tells the story of a world made up of only Bears and Mice, where the Bears live up above and are feared by the mice. But one day when one of the mice is cast away and hated, she meets up with e bear who is living on the streets. When they start bonding, the town goes insane and they are on a huge chase around town. This is a wonderful film that deserves all the praise it is getting and the animation is absolutely perfect. This story is one you may have seen before, but the way it is told here, separates it from all others. It may not be a perfect film, but as far as kids animation goes, it is. I loved watching this sweet innocent film, and it is very well-written. I highly recommend "Ernest & Celestine."
½
This a thoroughly cute tale based on Gabrielle Vincent's children's book. Here in Cleveland there was no choice about seeing the subtitled version or the dubbed version, so I saw it dubbed with Forest Whitaker and Mackenzie Foy. I was carried along throughout by this story of a friendship between two exiles. The watercolor dream sequences were quite imaginative too. The mice, who live below ground, and the bears, who live above ground, have strong prejudices against each other. In a subplot, one bear family teaches their son that the father bear, who owns a candy store, only sells to all the other children to drive business to the mother bear's dentist office across the street. The mice also have an industry of collecting bear teeth to replace their worn out incisors so they can continue their building projects. It is up to Ernest, the street performer bear, and Celestine, the young painter mouse, to make their respective societies see the error in their prejudices. The final scenes in court with the fires and Ernest and Celestine being reunited lost me, though. The conclusion seemed less truthful.
Discussion Forum
Discuss Ernest & Célestine on our Movie forum!
News & Features