Games
(1967)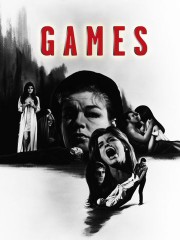 Tickets & Showtimes
Movie Info
In this psychological thriller, two wealthy Manhattan art-collectors grow bored with their decadent lifestyle until an eccentric immigrant woman shows up at their apartment selling makeup. Seeing an opportunity for some new fun, they invite her in and ask her, a natural psychic, to give them instructions for new games.
more
Cast
News & Interviews for Games
Critic Reviews for Games
Audience Reviews for Games
Despite its age, this mystery/thriller holds up pretty well, though the main plot twist becomes obvious a bit too early.
Gabriel Knight
Highly recomendable for those liking the Twilight Zone quality. Quite well done suspense thriller about a married couple that likes to host parties centering around American games, pinball, our culture games in particular. However, a travelling French saleslady acted by a now middle aged Simone Signoret gives them games they weren't prepared for.

Essentially, however, "Games" is a whodunit, or, more properly, a who-is-doing-what-and-to-whom? It concerns Paul and Jennifer, who are rich, young and beautiful, and who have been married three years.

This one is good from the start, as we see our newly weds hosting a party for their associates and friends. At first it appears set in the early 1900's, but thats just peculiar to the starting scene. The setting is in the 1960's.

As time goes on, our mysterious saleslady Lisa Shindler (like Shindler's List maybe? No, not really).... plus a thunder filled soundtrack.... gives us an idea of what's in store for us and the young couple. This film has a Twilight Zone feel to it. Indeed, in reality our director worked on an episode of the TV's Twilight Zone.

Lisa becomes involved in the everyday lives of our games orientated couple. The "games" get more adventurous with visitors to their apartment getting the full treatment.


You can view this on Youtube.com with a search of "games movie 1967". The movie is presented in 7 installments. I encourage everyone to see it out if they can conveniently do so.


Stars James Caan (Godfather), Katherin Ross (Butch Cassidy and the Sundance Kid), Simone Signoret as the mysterious saleslady.

One person among others on youtube commented:
"I can't believe this movie is actually available. I watched this when I was in middle school late at night and loved it. I have been looking for it ever since. Thank you YouTube."
-----nogod65 4 months ago




This is a "killer" right to the end. And you won't suspect a thing.





Director: Curtis Harrington*

CAST
Simone Signoret ... Lisa Schindler

James Caan ... as Paul Montgomery

Katharine Ross ... as Jennifer Montgomery
Don Stroud ... as Norman
Kent Smith ... as Harry Gordon
Estelle Winwood ... as Miss Beattie
Marjorie Bennett ... Nora
Ian Wolfe ... Dr. Edwards
Anthony Eustrel ... Winthrop
Eloise Hardt ... Celia
George Furth ... Terry, Party Guest



NOTES:

* About the Director:
Director Curtis Harrington was an excellent and shamefully underrated writer and director who specialized in marvelously offbeat and atmospheric low-budget independent horror pictures.

Pictures include the nifty sci-fi/horror "Alien" precursor "Queen of Blood," the delightfully campy Shelley Winters vehicles "Whoever Slew Auntie Roo?" and "What's the Matter With Helen?" (the latter was Harrington's personal favorite amongst all the movies he made), the perverse "The Killing Kind," and the immensely fun "Ruby."

Personal Quotes:
[on his approach to directing horror films] "When it comes to fear, I usually go by instinct. I know what will affect me, but I don't have a formula. I avoid the cheap effect -- adding a loud noise to the soundtrack that startles the audience, for example. I still think the Val Lewton approach is the best one, and that is the power of suggestion. What you don't see is more unsettling than what you do see."



AWARDS:

BAFTA Awards
Year Result Award Category/Recipient(s)
1969 Nominated BAFTA Film Award Best Supporting Actress
Simone Signoret
monsieur rick
Discussion Forum
Discuss Games on our Movie forum!
News & Features