Garden State
(2004)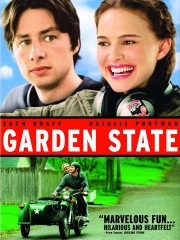 TOMATOMETER
AUDIENCE SCORE
Critic Consensus: Delivering a quirky spin on familiar twentysomething tropes -- with a cannily-placed soundtrack -- Garden State has enough charm to mark a winning debut for first-time director Zach Braff.
Tickets & Showtimes
Garden State Trailers & Photos
Movie Info
Andrew Largeman shuffled through life in a lithium-induced coma until his mother's death inspired a vacation from the pills to see what might happen. A moderately successful TV actor living in Los Angeles, "Large" hasn't been home to the "Garden State" in nine years. But even with 3,000 miles between them, he's been unable to escape his domineering father Gideon and the silencing effect he's had on his son from afar. Stunned to find himself in his hometown after such a long absence, Large finds old acquaintances around every corner living quite unique lives as gravediggers, fast food knights and the panderers of pyramid schemes. Meanwhile, at home, he does his best to avoid a long-simmering but inevitable confrontation with his father. By a twist of fate, Large meets Sam, a girl who is everything he isn't. A blast of color, hope and quirks, Sam becomes a sidekick who refuses to ride in his sidecar. Her warmth and fearlessness give Large the courage to open his heart to the joy and pain of the infinite abyss that is life.
more
Rating:
R (for language, drug use and a scene of sexuality)
Genre:

Drama

,

Romance

,

Comedy

Directed By:

Zach Braff

Written By:
Zach Braff
In Theaters:
Jul 28, 2004 Wide
On DVD:
Dec 28, 2004
Box Office:
$26.7M
Runtime:
Cast
News & Interviews for Garden State
Critic Reviews for Garden State
Audience Reviews for Garden State
½
A small-time actor (Zach Braff), doped up on heroic doses of antidepressants, returns home to New Jersey for his mother's funeral and finds love with a quirky lady (Natalie Portman) while working through his family issues. The first half hour is an excellent, deadpan comedy of alienation that feels like a 21st century riff on THE GRADUATE; momentum slowly fades away as the script yields originality to the conventions of the romantic comedy genre.
The directorial debut of sitcom actor Zach Braff, many were impressed and surprised by the serious depth and eccentric writing in the script. Also starring in the titular role of Andrew Largeman, Braff is mirroring his own life story and the reaches of his own depression at the time he wrote the script. Now an indie darling and cult classic, the film certainly resonates because of its following of a family's turmoil, but more importantly the role of the deadened senses of the young, and how a person in a quagmire really needs to grab at life for the good. The film centers on child actor turned waiter Andrew, who comes back to his home state of New Jersey for the funeral of his father. He runs into his friends from high school, meets a doctor's receptionist who is a pathological liar and a loveable girl next door, and tries to understand the procession of his life without mood altering drugs or the guilt over his mother's injury. Most of the film is about a love story between down and out Andrew and epileptic Sam, who is making her way through life while keeping her disability a secret and trying to connect to someone besides her loving and yet embarrassing mother. Full of really great and odd performances, it contains many great actors who usually take on smaller and yet substantial roles such as Peter Sarsgaard as a grave digging kleptomaniac, Ian Holm as Andrew's psychiatrist father, who had put his son into a lithium infused haze, and strangely enough a cameo from rapper Method Man as a bellhop. Sincerely, Braff has created a very youth centered and dramatized film, including a Grammy winning soundtrack put together by Braff himself, and an ending that is understandably clichéd and yet satisfying.
Garden State Quotes
Andrew Largeman: There's a handful of normal kid things I kinda missed.
Samantha: There's a handful of normal kid things I kinda wish I'd missed.
Mark: The only thing worse than a favor is a favor involving money.
Andrew Largeman: Are you doing anything right now?
Samantha: Can you elaborate on doing anything?
Andrew Largeman: I just know this guy Jesse who bought this mansion that's right up here and we wants me to come visit him, but I don't want to stay very long. So I was thinking if you came too I could just say I have to take you home when I'm ready to go.
Samantha: Wow. That's pretty damn random of you, Andrew. Nice to meet you. Can I use you?
Andrew Largeman: No.
Samantha: Must be the Hollywood in you, I guess.
Andrew Largeman: No, come on, it's not like that. It will be fun. I'll tell you what, we could have a signal. Like when you pull on your ear that's the code and then I'll be like, oh I gotta take her home. And then we'll go.
Samantha: Can we have code names, too?
Andrew Largeman: If you want.
Samantha: Okay. But don't try and kidnap me or anything because my step-uncle is a bounty hunter and he could have you tracked and killed.
Andrew Largeman: You're such a liar!
Andrew Largeman: So why were you really there?
Samantha: Charging, I'm a robot.
Andrew Largeman: Do you lie a lot?
Samantha: What do you consider a lot?
Andrew Largeman: Enough for people to call you a liar.
Samantha: People call me lots of things.
Andrew Largeman: Is one of them liar?
Samantha: I could say no, but how would you know I'm not lying?
Andrew Largeman: I guess I could choose to trust you.
Samantha: You can do that?
Andrew Largeman: I can try.
Samantha: Whose bike is that?
Andrew Largeman: It 'was' my grandfather's it was the only thing he left to anybody in the world and he left it to me. And I like it.
Samantha: So this is the point in the conversation where you'd ask me if I like a ride home.
Andrew Largeman: It is?
Samantha: Yep
Andrew Largeman: Would you like a ride home?
Samantha: Fine but I'm not getting in that side car.
Andrew Largeman: Why not?
Samantha: Side cars are for bitches anyone who rides in that is automatically your bitch! Thus I will ride on the back. Whoa!
Andrew Largeman: Hold on.
Samantha: Okay holding my hair's blowing in the wind!
Discussion Forum
Discuss Garden State on our Movie forum!
News & Features