The Ghost and the Darkness
(1996)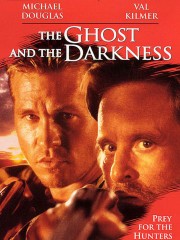 Tickets & Showtimes
The Ghost and the Darkness Trailers & Photos
Movie Info
In this old-fashioned jungle adventure, a British engineer, Colonel John Patterson is sent to the Tsavo River deep in the East African wilds to construct a vast railroad bridge as part of the Pan Africa railway. But instead of focusing all his attention on getting his crew, comprised of a tempestuous crowd of natives, Moslems and Hindus, to construct the bridge, he ends up fighting a nearly mystical pair of man-slaughtering rogue lions with the help of an Africanized great white hunter. The film contains considerable violence as the lions turn out to be voracious and ruthless killers. The plot is allegedly based upon a true story.
more
Cast
News & Interviews for The Ghost and the Darkness
Critic Reviews for The Ghost and the Darkness
All Critics (54) | Top Critics (15) | Fresh (23) | Rotten (23) | DVD (4)
The picture is too lightweight, too posturing and too self-important to go in an introspective direction.
San Francisco Chronicle
Top Critic
Ranges in quality from adolescent boys' adventure stories to Heart of Darkness.
Globe and Mail
Top Critic
When the movie sticks to fact, the result is a hypnotic spectacle.
Los Angeles Times
Top Critic
Despite mumbo jumbo about the lions being supernatural demons unleashed by the imperialistic white man, it's nothing more than Jaws with claws.
A scenery-chewing Michael Douglas is the highlight of this passable landlocked variation of Jaws.
Audience Reviews for The Ghost and the Darkness
Chris Weber
Super Reviewer
I have to say I really enjoy The Ghost and the Darkness, but not because it's a fantastic film. It's actually a bad film with good elements to it, but there are things about it that fascinate me. First of all, it's directed by Stephen Hopkins, whose film output has been hit and miss but mostly miss. This film did make a profit, but then again, I don't think it had all that much competition at the time. Second, Val Kilmer and Michael Douglas are really bad in this. Val Kilmer is his usual stoic self, even when he's trying to be outraged or scared about something. Michael Douglas just sticks out like a sore thumb, and I don't understand how he got top billing when he doesn't enter the story until about halfway through and then disappears before the film's climax. When you read up on it and realize that his character wasn't even a part of the real-life events you begin to understand why he sticks out so much. His acting is also terrible, not to mention his outfit and extensions. Third, even though this is a Jerry Goldsmith score, I find it really annoying, particularly the chanting bits. It's definitely not one of his best works, and there's too much of it in the movie if you ask me. The film is also terribly uneven and feels longer than it actually is. There are some enjoyable bits in it, and it's nice to see Bernard Hill and Tom Wilkinson pop up in small parts (the latter being a pretty nasty character, laughably so), but it's not a great movie. I like it for the crap that surrounds it, and because I'm a fan of Stephen Hopkins who I think is a talented visual director with a gusto for delivering shlock stories.
Tim Salmons
Super Reviewer
½
This African hunting adventure seems to come right out of the era of great Hollywood films with similar themes. It is old-fashioned in the good sense. Two men, their guns and two lions, that terrorize a bridge-building camp in Uganda. That simply premise is delivered well here, with decent acting, enthralling lion attacks and action scenes and great cinematography. When the camera lingers on the sea of dry grass and you expect to spot a lion in there somewhere, the film is particularly strong. Sadly, it wastes its rather interesting minor characters a little too easily. But overall, it's an entertaining and well made film.
The Ghost and the Darkness Quotes
Samuel: Are not lions, they are The Ghost and the Darkness.
Helena Patterson: Save yourself. No, send me your ATM.
Col. John Henry Patterson: I'm a tad frightened, you?
Col. John Henry Patterson: Gevalt! Women and children go first!
Discussion Forum
Discuss The Ghost and the Darkness on our Movie forum!
News & Features