The Good Shepherd
(2006)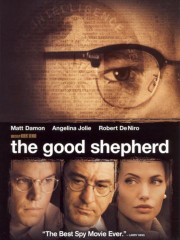 TOMATOMETER
AUDIENCE SCORE
Critic Consensus: Though ambitious and confidently directed by Robert De Niro, The Good Shepherd is ultimately a tedious drama that holds few surprises and succumbs to self-seriousness.
Tickets & Showtimes
The Good Shepherd Trailers & Photos
Movie Info
Edward Wilson understands the value of secrecy--discretion and commitment to honor have been embedded in him since childhood. As an eager, optimistic student at Yale, he is recruited to join the secret society Skull and Bones, a brotherhood and breeding ground for future world leaders. Wilson's acute mind, spotless reputation and sincere belief in American values render him a prime candidate for a career in intelligence, and he is soon recruited to work for the OSS (the precursor to the CIA) during WWII. As one of the covert founders of the CIA, working in the heart of an organization where duplicity is required and nothing is taken at face value, Edward's idealism is steadily eroded by a growing suspicious nature, reflective of a world settling into the long paranoia of the Cold War. As his methods are adopted as standard operating procedure, Wilson develops into one of the Agency's veteran operatives, all the while combating his KGB counterpart. However, his steely dedication to his country comes at an ever-increasing price. Not even his wife Clover or his beloved son can divert Wilson from a path that will force him to sacrifice everything in pursuit of this job.
more
Cast
News & Interviews for The Good Shepherd
Critic Reviews for The Good Shepherd
Audience Reviews for The Good Shepherd
Chris Weber
Super Reviewer
Many spy films depict a life of easy affluence and an amusement park of thrills, but this one is far, far different. Instead an existence of miserable ever gnawing fear and isolation, masked beneath a cheesy veneer of " everything's all right", slowly choke even desperation away, leaving a pallid complacency. While admittedly not a work for everyone I found myself riveted.
I really enjoyed this movie. The movie was a mix of the orgins and the CIA and the consequences of life this man had to make to protect his country. The plot was genius, even if it did have some fake stuff from real life. There were intense moments, characters, and secrets. True it was too confusing and not a reall spy movie, and really long. But its a small price to pay to watch this classic.
Jim Careter
Super Reviewer
The Good Shepherd Quotes
Bill Sullivan: I don't want your answer now, just think about it. But this isn't a bunch of fraternity boys sitting around playing with their pricks... This is for real. For America.
Bill Sullivan: We'll eventually get involved in this war. Not because we want to, but because we have to, and we should. And the President has asked me to look into creating a Foreign Intelligence Service. And if that happens, I'll be looking for patriotic, honorable, bright young men from the right backgrounds to manage the various departments. In other words, no jews or negroes and very few Catholics, and that's only because I'm a Catholic.
Valentin Mironov #2: Soviet power is a myth. A great show. There are no spare parts. Nothing is working, nothing, it's nothing but painted rust. But you, you need to keep the Russian myth alive to maintain your military industrial complex. Your system depends on Russia being perceived as a mortal threat. It's not a threat. It was never a threat. It will never be a threat. It's a rotted, bloated cow.
Philip Allen: Intelligence is their mother's milk and they don't like sharing the royal tit with people that don't have titles.
Discussion Forum
Discuss The Good Shepherd on our Movie forum!
News & Features