Grandma
(2015)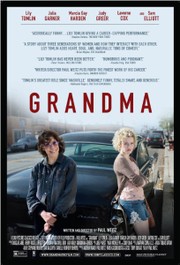 TOMATOMETER
AUDIENCE SCORE
Critic Consensus: Boasting a stellar performance from Lily Tomlin and some powerfully empathetic work from writer-director Paul Weitz, Grandma is a dramedy that shouldn't have to ask you to visit.
Grandma Trailers & Photos
Movie Info
Lily Tomlin stars as Elle who has just gotten through breaking up with her girlfriend when Elle's granddaughter Sage unexpectedly shows up needing $600 bucks before sundown. Temporarily broke, Grandma Elle and Sage spend the day trying to get their hands on the cash as their unannounced visits to old friends and flames end up rattling skeletons and digging up secrets. (C) Sony Classics
more
| | |
| --- | --- |
| Rating: | R (for language and some drug use) |
| Genre: | Comedy |
| Directed By: | Paul Weitz |
| Written By: | Paul Weitz |
| In Theaters: | Aug 21, 2015 Limited |
| On DVD: | Feb 9, 2016 |
| Runtime: | |
Cast
News & Interviews for Grandma
Critic Reviews for Grandma
Audience Reviews for Grandma
3 generations of one family come together in a time of crisis. Tomlin channels Irene Ryan's Granny from The Beverly Hillbillies TV show and is properly ornery. A film that consciously tackles "women's troubles", but perhaps too consciously. Not bad. Not terrible. Could've used more Marcia Gay Harden.
ABORT LAST NIGHT - My Review of GRANDMA (3 Stars)

Although writer/director Paul Weitz (ABOUT A BOY, AMERICAN PIE) will most likely never be accused of being a visionary auteur, he knows how to move and entertain an audience. GRANDMA, which could easily be dismissed as a totally unambitious, artless slice of life, still managed to hold me in its dry, acerbic spell for its brief 80 minute running time. One of my friends loathed this film, calling it completely unconvincing and poorly acted, and I could have so easily leaned in his direction were it not for my deep, blind love for Lily Tomlin. Even with her terrible films, and yes, I never drank the BIG BUSINESS Kool Aid, I've always appreciated Tomlin's delightfully bitter world view. Her killer smile, commanding voice, and take no prisoners attitude has a special place in my cold, cold heart. She's a comic genius who earned her dramatic chops with her stunning performance in the 1975 classic NASHVILLE.

It's been such a long time since Tomlin has starred in a movie and even longer since she's tackled a drama, so I went to GRANDMA ready to savor every delicious minute of it. Sure, she still leans on comedic beats here, but having her front and center in every frame was enough to get me through its "small time" feel. Taking place over the course of a single day, Tomlin's Elle Reid has just broken up with her much younger short-term girlfriend (Judy Greer) when her granddaughter Sage (Julia Garner from THE AMERICANS) knocks on her door. Needing an abortion that evening and unable to shoulder the cost, Sage has come begging Elle. A broke ex-poet turned teacher, Elle takes Sage on a journey to drum up the funds, encountering people in their lives with the potential to help. It's an extremely clean, simple premise, giving Tomlin one opportunity after another to rail against anyone who gets in their way.

I won't spoil what happens, but the cast of characters they meet consist of some great up-and-coming and established names, including Nat Wolff (PAPER TOWNS) as the idiot who knocks Sage up, the late Elizabeth Pena who is gets to match Tomlin's anger in an amusingly explosive scene, Colleen Camp, who proves that you can mine comedy out of a single line of dialogue, Marcia Gay Harden as Tomlin's severe daughter, Laverne Cox, who unfortunately does very little with her tattoo artist role, and best of all, Sam Elliott, as a man from Elle's past. Most of these characters merely exist to shine a light on Elle's tortured, petty, cruel and stagnant personality, which is ok, because the film, after all, is called GRANDMA, not A BUNCH OF PEOPLE.

Moreover, while I would watch Judy Greer in almost anything (which means I did see JURASSIC WORLD), and I find Julia Garner to be a strong, self-possessed young actor, the main attraction is Tomlin. Depending on your stomach for her brand of comic bile, you may end up savoring every moment or end up looking for a moist towelette to wipe the somewhat sitcom-like machinations off of you. I'm, of course, with the former camp, loving that Tomlin has been freed up here to "dyke out" for the first time on film, instead of having to pretend to actually enjoying kissing John Travolta, her lookalike in the execrable MOMENT BY MOMENT. Elle's take-no-prisoners brand of feminism along with her Mother Cub protective instincts make her encounters bristle with the energy of a person who's sifted through enough crap in her life. Elle is a complicated character in that she doesn't always do or say the right things, yet Tomlin's command keeps you in the game.

There's a fine line between being too Sundance-like and too populist, and GRANDMA walks the tightrope quite well between the two. Yes, it's artless, often obvious, and pretty clear from the start where the whole thing will end up, but that quiet, subtle, long final shot of Tomlin feels earned. You may not know what comes next for this unstable, unreasonable, yet wholeheartedly caring person, but you'll feel confident she can handle it by the end.
Discussion Forum
Discuss Grandma on our Movie forum!
News & Features