The Great Escape
(1963)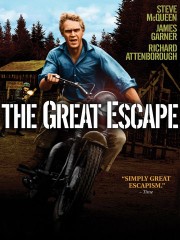 Tickets & Showtimes
The Great Escape Trailers & Photos
Movie Info
Based on the book by Paul Brickhill, The Great Escape is the true story of Allied prisoners plotting to break out of Nazi detention camp. Bartlett (Richard Attenborough) is the British officer who masterminds the escape. Out of 250 prisoners, only 76 manage to escape, and the number soon dwindles to two dozen. Hilts (Steve McQueen) and company must get through Nazi occupied territory, which is the premise for most of the film. McQueen rides a motorcycle through heavy gunfire in a spectacular action sequence to avoid certain death at the hands of the enemy. James Garner, Donald Pleasence, Charles Bronson and James Coburn also star in this exciting, suspenseful action adventure. Although he had appeared in other previous film, this is the one that brought superstar status to Steve McQueen. The handsome, brooding actor performed all his own stunts in the action sequences in the type of action adventure film that became McQueen's trademark.
more
Cast
News & Interviews for The Great Escape
Critic Reviews for The Great Escape
Audience Reviews for The Great Escape
½
By investing good part of its narrative in the many particulars of the great escape planning, this outstanding prison break movie increases our connection with a large gallery of memorable characters, making us deeply care about its consequences in a tense, breathtaking final act.
What a magnificent piece of classic cinema! Everything from the acting to the music is just pure artistic gold. What's even more amazing is how the details and execution of this ingenious escape from a Nazi POW camp, is all based on true events.

An even better reason to see it though, is the outstanding cast. You got Steve McQueen, Charles Bronson and a countless number of other brilliant thespians, whom are now legends of their time. Each and every one giving it their very best, which even further amplified the power of this incredible story.

With this and "Papillon" (another prison escape film starring Steve McQueen) in recent memory, I honestly regret to have waited so long with seeing these classics. They house a soul of unparalleled intelligence, and rows upon rows of beautifully written characters, which is something we rarely get in their modern equivalents.

Indeed it really opened up my eyes to a whole new treasure trove of golden oldies, which I've been happily exploring ever since. And for those that are yet to discover it, may I suggest that you relish the same opportunity.

http://www.facebook.com/pages/Mikes-Movie-Reviews/281824101875153?ref=hl
The Great Escape Quotes
"Cooler King" Hilts: What do they call a mole in Scotland?
"The Mole" Ives: A mole.
Senior Officer Ramsey: Up the rebels.
Goff: Down the British.
"Cooler King" Hilts: What do they call a mole in Scotland?
"The Mole" Ives: A mole.
Kuhn: We have reason to believe this prisoner is the mastermind behind numerous criminal escape attempts.
Von Lugar "The Kommandant": [sarcastically] Squadron Leader Bartlett has been three months in your care! And the Gestapo has only 'reason to believe'!
Discussion Forum
Discuss The Great Escape on our Movie forum!
News & Features