Hangman's Curse
(2003)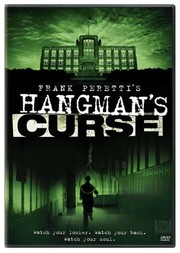 Hangman's Curse Trailers & Photos
Movie Info
A family of paranormalists investigates the strange goings-on at a high school still reeling over a student's very public suicide in this teen thriller. Hangman's Curse concerns the further exploits of the Veritas Group, a loose collective of people committed to researching supernatural mysteries. The group's members include the Springfield family -- parents Nate (David Keith) and Sarah (Mel Harris) and Elisha (Leighton Meester) and Elijah (Douglas Smith) -- whose current assignment takes them to the aforementioned high school. There, they find that Abel, the teen who took his life, had been long ostracized by various cliques in the school -- jocks, popular kids, and the like -- all of whom are falling prey to mysterious ailments. As Nate and Sarah watch from the sidelines, it's up to Elisha and Elijah to pose as students to get inside the mystery. Hangman's Curse was based on the novel by Christian author Frank Peretti.
more
Cast
News & Interviews for Hangman's Curse
Critic Reviews for Hangman's Curse
Audience Reviews for Hangman's Curse
I'm SUPER afraid of spiders!!! In that aspect...this movie scared the crap out of me. Other than that...it was pretty dumb. I watched it years ago.
Jasmine Dick
I liked the concept of this movie: a family that investigates supernatural events. The execution of the idea led much to be desired. Too much of the movie was cliched and unbelievable. The family all arriving at the school at the same time, not trying to hide that they are all connected, yet still being able to get kids to trust them... it all combined to stretch the credibility to the limits. The Christian themes were very welcome, however as a result, you just knew there would be a resolution that was not supernatural. The acting is merely okay. Watch it on a slow night and keep your expectations on the lower end.
Discussion Forum
Discuss Hangman's Curse on our Movie forum!
News & Features