The Holy Mountain
(1973)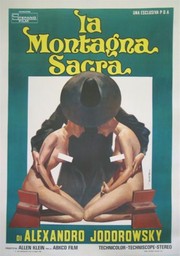 Tickets & Showtimes
The Holy Mountain Trailers & Photos
Movie Info
The most powerful individuals in the solar system are out to become gods and rule the universe.
more
Watch it now
Cast
News & Interviews for The Holy Mountain
Critic Reviews for The Holy Mountain
Audience Reviews for The Holy Mountain
Like El Topo, Holy Mountain is slow but often poignant. The beginning and ending are both equally stunning, arguably moreso than its predecessor.

However, A little editing in between would've gone a long way this time around. There are so many gems, verbal and visual alike, but I couldn't watch it in one setting. So many great one-liners and scenes are all-but-lost in a smattering of pointless dialogue and scenes, namely between the middle and ending. The explanation of the universal journeyman was especially harrowing.

Half the time it was funny and interesting and half the time it was simply poorly written and truly unnecessary, and strangely, formulaic. How odd for Jodorowsky! The music was further boring and formulaic, and it takes a lot for me to enjoy a movie with a poor soundtrack.

How sad that his Dune production never came to be, that David Lynch and not he, who cared so much more deeply about the project, eventually made the movie. Jodorowsky influenced so many great artistic talents in the process. It's truly horrible that he never got to see his own great masterpiece come to life.
This psychedelic, LSD-induced masterpiece is not only visually ambitious, with an impeccable cinematography and editing, but also incredibly imaginative as it makes use of archetypes and symbolism in a brilliant social commentary, and it is wonderful how the fantastic score helps create the perfect atmosphere in every scene.
The Holy Mountain Quotes
Discussion Forum
Discuss The Holy Mountain on our Movie forum!
News & Features