The Hottie and the Nottie
(2008)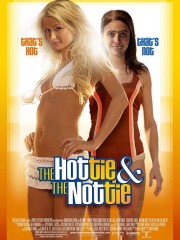 TOMATOMETER
AUDIENCE SCORE
Critic Consensus: The Hottie and the Nottie is a crass, predictable, and ineptly staged gross-out comedy that serves little purpose beyond existing as another monument to Paris Hilton's vanity.
Tickets & Showtimes
The Hottie and the Nottie Trailers & Photos
Movie Info
An attractive bachelorette (Paris Hilton) finds that her chances of landing a man hinge far too much on her unattractive best friend (Christine Lakin), whom she goes out of her way to find a mate for by denying a childhood friend's romantic advances until he finds this hottie's pal a mate in this Regent Releasing comedy.
more
Rating:
PG-13 (for crude and sexual content)
Genre:

Comedy

,

Romance

Directed By:

Tom Putnam

Written By:
Heidi Ferrer
In Theaters:
Feb 8, 2008 Wide
On DVD:
May 6, 2008
Runtime:
Cast
News & Interviews for The Hottie and the Nottie
Critic Reviews for The Hottie and the Nottie
Audience Reviews for The Hottie and the Nottie
½
Nowhere near as bad as expected. Paris, like every other movie I've ever seen her in, acts like she's posing in front of the mirror, but for a mindless comedy, this was not that bad at all and even quite sweet in a way.
[CENTER][img]http://img142.imageshack.us/img142/101/photo10aa5.jpg[/img][/CENTER]

[COLOR=DarkRed][FONT=Arial]Paris Hilton is certainly a polarizing figure. The hotel heiress and tabloid star inspires so much hatred from the public and yet others still fawn over her. She simultaneously inspires ire and interest, and filmmakers have been trying to give their movies a publicity boost by adding Hilton into the cast. It didn't work wonders for 2005's [I]House of Wax[/I], though audiences got to witness Hilton get nailed in an altogether different manner. Most of her starring ventures have been straight for DVD, except for this year's beauty-and-the-beast crude comedy, [I]The Hottie and the Nottie[/I]. It was released just in time for Valentine's Day (hooray!). According to the numbers-crunching website Box Office Mojo, [I]The Hottie and the Nottie[/I] played at 111 theaters for a mere three days before being yanked for DVD. It made a total of $27,696, averaging a pitiful $250 per screen. That averages out to 28 people seeing it per screen for its entire theatrical run.

Nate Cooper (Joel Moore, [I]Dodgebal[/I]l) is a 26-year-old dude who is just dumped by his latest near psychotic girlfriend (Kathryn Fiore). His latest dustup in love makes him reflect fondly to his first experience with the L-word. It was first grade and Christabelle moved into town. Nate moved to Maine after the first grade and never saw her again (seriously, does anyone ever remember the first grade with such clarity and deep feelings?). He decides to track down the adult Christabelle (Paris Hilton) who is working in Los Angeles. But before he can woo the "hottie" he has to get around the "nottie," said nottie being the hideous likeness of June Phigg (Christine Lakin, [I]Georgia Rule[/I], TV's [I]Step by Step[/I]). Christabelle and June have been friends since the first grade and Christabelle has sworn a vow of abstinence until she can find a guy for her friend.

Nate goes to great lengths to find a man willing to plumb the depths of "nottie-tude," including hypnotizing a man (Adam Kulbersh, the only funny actor in this mess) into associating the image of June with a space babe. Then along comes Johann (Johann Urb). He's a chiseled hunk who works as a dentist and insists on helping June's unorthodox chompers for free. He seems too good to be true and Nate is convinced that Johann is buttering up the "nottie" because he really has his eyes set on scoring with the "hottie." I think just typing that sentence made me want to hurt myself.

This movie is a garish spectacle celebrating the vanity of Paris Hilton. The central premise is that Hilton is the pinnacle of beauty and that no man could resist her. The script is filled with all sorts of flattering compliments on how Hilton is the perfect specimen of desire. Early on she's described as Nate's "first real vision of beauty" and the one "all other girls will have to measure up to." Men line up just to watch her pass by on her jogging route. She just doesn't turn heads she makes men lose their minds, pour drinks in their laps, and force their wives to slap them in the face. She even has an albino stalker. Johann asks Christabelle, "Have you ever done any modeling? You have great bone structure." The movie is a shallow 90-minute tribute to Hilton's superficial genetics. It's now time for a personal confession: I have never found Paris Hilton very attractive. I get that she's nubile and blonde and has a flat stomach and tons of money, plus she's displayed her bedroom flexibility to the public, but none of this cancels out her void of personality. She's no different from any other waif-like magazine model except the public cannot stop talking about her (this paragraph included).

The film tries to champion a misguided message but fails miserably. There's some lip service paid to inner beauty but Nate never sees the "nottie" as a "hottie" until she starts to physically transform and reconfigure her body. He remains shallow until the ugly girl meets the demands of others. No one seems to see her inner beauty until she focuses on the outer. Not only this, the film presents no rationale why Nate would start to fall for the "nottie." There is no groundwork, they just all of a sudden talk more, make a few jokes, and then it's straight to the longing looks and soft emo music. It makes no sense even for a cheap romantic comedy. Then there's the whole concept of Hilton as a moral character who advisees the less physically gifted of the species that the secret to love and happiness is to be yourself. Paris Hilton telling others to just be themselves? What kind of ridiculously hypocritical message is that? This woman's vaginal canal gets more traffic than the Holland Tunnel. She even plays a reformed slut that pressures her ugly friend to lose her virginity as fast as possible. But remember to be your self, kids.

The dialogue is full of clunkers. Christabelle tells Nate, "I think a life without orgasms is like a world without flowers." Um okay then. When she gets into the requisite third act fight with Nate, Christabelle says, "I am out of your league. You can't sing, you can't dance, you're a terrible athlete and a really crappy liar." Now what does that mean exactly? It's meant to be dramatic but it ends up with a different meaning. Christabelle is inferring she can sing, dance, is an athlete, and ? is a good liar? I would also like to know what the hell Nate does as far as a job, because it's never mentioned and yet he has the time and money to buy lavish gifts like $2000 spa treatments.

The comedy is excruciating. [I]The Hottie and the Nottie[/I] is physically nauseating to watch. I've written before that there's a difference between gross-out and just gross, and this movie doesn't seem to understand this. I nearly vomited after seeing an infected toenail land in some guy's mouth. Snot bubbles, varicose veins, gnarly teeth, extreme acne, and overgrown hair are not comedy without context. Presented alone, they compose a vile health department slide show. There's nothing funny in just being gross. Beyond that, the film is fairly lazy and obvious with its setups and punch lines. There may have been one moment that genuinely made me laugh and that was because it was unexpected. There aren't any memorable or even remotely clever comic set pieces. The script by Heidi Ferrer ([I]Princess[/I], [I]Dawson's Creek[/I]) seems to completely misjudge the rules of comedy and romance and credibility.

It is difficult to describe Hilton as an "actress" because her whole public persona she's built for herself something of an act. The film seems to cut around her limited acting skills because there's never a shot that lasts longer than two or three sentences. If director Tom Putnam is honest with himself he will some day release a fascinating commentary about the pains of directing Hilton, something I would liken to leading a horse to water.

But special mention must be made to a man that feels so audacious he must put the term "the" in front of his name. (The) Greg Wilson plays Nate's only friend in this reality and oh God is he terrible. He does the word "terrible" an injustice. He seems to be shouting every line completely overboard as if he were on some glib VH1 pop culture show where every line feels like it should be followed by a rim shot. His jokes are groan worthy and his spastic line delivery is all over the place. The man comes across as the most obnoxious actor in a film that freaking stars Paris Hilton. I wanted to punch him in the face every second I saw his smirking expression. Congratulations (The) Greg Wilson, because you were out-acted by (the) ditzy heiress who has been known to take phone calls while taking it from behind.

The child actor that plays young Nate, well, I don't know how to be kind about this ? but this freaking kid looks like a dwarf pretending to be a six-year-old kid. He has gigantic eyes and his melon resembles a bobble-head. He reminds me of the child in The Tin Drum who wished her would remain a child forever and never physically changes, even after the hormones set in. This kid just doesn't look right.

This is a vapid excuse for a movie and a waste of time. And yet, for my vast knowledge on the world of bad cinema, [I]The Hottie and the Nottie[/I] is awful, unfunny, stomach-churning, and morally repulsive but it is still a better movie than [I]Meet the Spartans[/I]. Hell, at least this flick even attempts a three-act story structure with something close to characters. I've heard complaints that [I]The Hottie and the Nottie[/I] would be viewed more fairly if Hilton was not the lead but I argue that Hilton and the film are inescapable. She served as an executive producer on the film and approved the material, so of course it's going to be flatter her and present numerous situations where Hilton can strut and pose in revealing outfits. She's less of a character than a loop of masturbatory fodder. But you could even get that for free elsewhere; Lord knows this woman isn't shy about her body. This is just a sad, icky film that serves one purpose: to stroke Hilton's vanity. But remember kids, just be your self.

Nate's Grade: D-[/FONT][/COLOR]
Nate Zoebl
Super Reviewer
Discussion Forum
Discuss The Hottie and the Nottie on our Movie forum!
News & Features