Howard the Duck
(1986)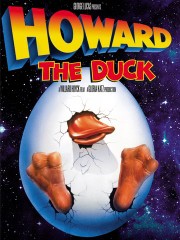 Tickets & Showtimes
Howard the Duck Trailers & Photos
Movie Info
Director and co-screenwriter Willard Huyck has taken Steve Garber's abrasive, beer-drinking and cigar-smoking comic-book character and castrated him, turning him into a wide-eyed cutesy-pie available for the toy shelves. Huyck's Howard the Duck is a being from outer space, blown into Cleveland by an errant laser beam. After a few minutes on Earth, Howard runs into rock singer Beverly Switzler (Lea Thompson), and they become fast friends after Howard protects her from a couple of nasty punkers. The film then degenerates into an extended chase, as Howard and Beverly are pursued by government agents who want to capture Howard before he can be beamed back into space.
more
Cast
News & Interviews for Howard the Duck
Critic Reviews for Howard the Duck
Audience Reviews for Howard the Duck
½
Goofy film (oh, sorry - he was a dog)
½
[img]http://images.rottentomatoes.com/images/user/icons/icon14.gif[/img]

Due to the plot and nostalgic visual style, it was always going to be a misfire if it's primary intention was to become a summer blockbuster and unsurprisingly the film was a box office disaster. Not only that, but it's famous for being cited as one of the worst films ever made and even had to be cut because censors reacted badly to the jokes about ducks and condoms but even the most uneven and messy films like Howard the Duck have the power to inspire a fandom. I think the choice to use live action as opposed to animation was a good idea. Howard in animatronics isn't as unconvincing as everyone says, the dialogue matches his facial movements and he looks attractive and stylishly art house. However the people in the film are dull, boring and underdeveloped and are portrayed awfully with even worse performances than the horrible cast of Transformers. I'm certain that the film is likely to dissappoint it's target audience more than any kids movie i've seen in my viewing life. It has quite a few scenes with smoking, swearing and some that I suspect are somehow promoting beastiality to people. But I embraced it for all it's weirdness and art house style of storytelling. I believe it's a surreal, strangely likable and sometimes witty failed picture and it appealed to me. I dont think there's any reasons to loathe it. I had a smile on my face all the way through, I think its a very strange, subversive, funny film. I unlike most most unfair critics actually looked at the positives of the film. So sue me. I enjoyed Howard the Duck.
Directors Cat
Super Reviewer
Howard the Duck Quotes
Dr. Jenning: If you can't take the heat, get out of that kitchen!
Howard T. Duck: That's it! No more mister nice duck!
Dr. Jenning: I don't have a license. My name is not Jack.
Howard T. Duck: Where am I?
Beverly Switzler: Oh, well...the bus stop is on the corner of Powell, and...
Howard T. Duck: No, no no...I'm asking 'what is this place'?
Beverly Switzler: Uhhh...Cleveland?
Howard T. Duck: CLEVE-LAND? Uh huh! That's a perfect name for this WEIRD planet!
Beverly Switzler: No, no...you...you don't know the name of the planet? Well, the planet's called Earth...I think. And I'm obviously in some weird nightmare.
Howard T. Duck: Oh yeah? YOUR nightmare...or MINE?
Beverly Switzler: Good point.
Discussion Forum
Discuss Howard the Duck on our Movie forum!
News & Features