The Human Stain
(2003)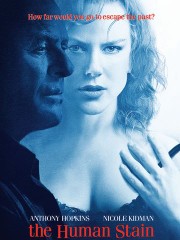 Tickets & Showtimes
The Human Stain Trailers & Photos
Movie Info
Coleman Silk is a man who, throughout his life, has been a master of deception and self-reinvention. As a promising college student, Coleman's first love, Steena, is shattered by a secret. Years later, as an esteemed professor, his career is ruined by false accusations. Now as he embarks on a scandalous affair with the mysterious Faunia, Coleman experiences an erotic reawakening that carries him back to the past. But with his resurrected passion also comes the threat of danger from Faunia's ex-husband, and Coleman is faced with the imperative to expose his true identity before it is too late.
more
Cast
News & Interviews for The Human Stain
Critic Reviews for The Human Stain
Audience Reviews for The Human Stain
½
I'm becoming a huge fan of Nicole Kidman. She's obviously a stunning woman, but fortunately she's also an excellent actress. She disappears into her roles and The Human Stain is the best display of her talents that I've seen so far. Kidman and the rest of the cast give perfect performances that augment a very interesting plot.

The Human Stain is essentially the story of two people's pasts and the events that still deeply affect their emotions and psyches. It takes a while before the entirety of the story is revealed, but if you're anything like me then you'll find yourself completely fascinated with each of the main characters by the end.

There are one or two scenes that come of as less than aunthentic, but these littlle missteps help to keep the story humming along, so I can't complain too much. I highly recommend The Human Stain, it's very well put together and even managed a few unexpected twists and turns.
½
Decently-written, well-acted movie killed by its lack of focus. It's a testament to Nicole Kidman and Anthony Hopkins' abilities that they manage to create two compelling characters in this mess of a movie, but what's the point here? What is the movie trying to say? That racism is bad? That we're rabid in our attempts to be politically correct? That love overcomes age? That Hopkins can somehow make a passable black man? (nigga please) The Human Stain finds a whole bunch of themes in succession, discards them, and moves on to something new with unenthusiastic nods to the old ones every once in a while. Filmmaking for the ADD intellectual.

And what was with that dance scene? Actually, there's a bizarre amount of dance scenes in this movie, so...what was with those four dance scenes?
The Human Stain Quotes
Ernestine: People are just getting dumber.
Coleman Silk: I don't think you can measure sorrow.
Coleman Silk: I am not afraid of dying. I'm not the one who ran off to a cabin in the woods to hide out.
Discussion Forum
Discuss The Human Stain on our Movie forum!
News & Features