I Declare War
(2013)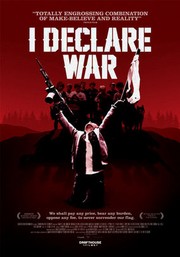 I Declare War Trailers & Photos
Movie Info
Armed with nothing more than twigs, their imaginations and a simple set of rules, a group of 12-year-olds engaged in a lively game of Capture the Flag in the neighborhood woods start dangerously blurring the lines between make-believe and reality. Rocks = Grenades. Trees = Control towers. Sticks = Submachine guns. The youthful innocence of the game gradually takes on a different tone as the quest for victory pushes the boundaries of friendship. The would-be warriors get a searing glimpse of humanity's dark side as their combat scenario takes them beyond the rules of the game and into an adventure where fantasy combat clashes with the real world. (c) Drafthouse Films
more
Watch it now
Cast
News & Interviews for I Declare War
Critic Reviews for I Declare War
Audience Reviews for I Declare War
½
The filmmakers have said in interviews that when they watched Stand By Me and Goonies, they really felt like those filmmakers really remembered what it was like to be kids. That's the type of film they set out of make and they succeeded with flying colours. It's about a bunch of kids playing capture the flag in the woods one weekend. I loved it so much, mostly because I totally used to play war like this when I was younger, and I imagine my games with the neighbour kids would probably have gotten this out of hand if A) I could have gotten more people to participate and B) we were unsupervised for long enough. The way the kids play is coloured entirely by who they are individually and pretty much magnifies the best and worst of them. Strange and arbitrary things are important to you when you're in elementary school and I Declare War never forgets this. As a profoundly immature, overgrown kid I know exactly where this movie is coming from. I enjoyed it as much today as I would have if I'd seen it when I was twelve. Great movie. May yet become a classic.
½
Underneath the waves of summer blockbusters and groundbreaking independent films are smaller, not widely discussed efforts despite the praise they receive. I Declare War is one of those movies having debuted as a work-in-progress print at ActionFest in North Carolina in April, where it took home the jury prizes for Best Film and Best Screenplay. It then went on to a triumphant premiere at last month's Toronto International Film Festival. It later took top honors in Texas, winning the Fantastic Fest Audience Award. If the film speaks for itself it proves its praises are all well earned with a gleeful sendup to war films and remembers it was to be a kid.

I Declare War takes place during summer in the middle of a war game between neighbourhood kids turning deadly serious when jealousy and betrayal enter the mix. The premise will leave some unfulfilled with the results in terms of silly motivations, kids taking a game of war serious, and speaking in ways kids don't normally do. Although the film accomplishes what it sets out to do successfully. It's not trying to be a metaphor for complicated issues, but a pleasant dark comedy. The kids take this simple game of war seriously and therefore we do too with how it's handled. Being character driven with each kid having their own personality and motivation for taking part of this game of war. For some it is simple like making friends and for the only girl in the game to impress a boy she likes. To silly ones from killing (with painted filled balloons) a general for not wanting to take hostage against the rules to making a boy get a leaf to break the teammates trust. The kids themselves play the game with more wit than actual imaginary stick gunplay. The two kids general are always planning ways to defeat and outsmart the enemy. I dare say it's more witty than some war films make themselves look. Outsmarting in a battle keeps this simple kids game engaging wanting to see what the next offensive or defensive strategy is next. The humor is spot on poking fun of the war film archetypes portrayed by kids. Taking the game itself very serious to create situations and unexpected outcomes with how the kids solve them. Also, the dialogue these kids speak while outrageous (a kid general talks about Napoleon Bonaparte and his leadership) it is at all time moving things forward and developing the characters. If you're expecting some deep commentary on how kids see violence you won't that get that here. It doesn't encourage violence among the youth (it actually discourages it), but replicate what it felt like fun we once had as a kid.

The acting from the young and consistent age cast is good. They are believable in their role not only acting like kids, but being offer the freedom to improvise scenes and dialogue make their acting stronger. This freedom pays off well offering laughs and a sense of a strong friendship among the cast. The entire film is shot in the woods. The camera-work is virtually all steady maintaining fluid motion throughout, despite the natural obstacles inherent in shooting on a forest floor. The combatants often move with the frame and not through it, as though we were running right alongside them. These tracking shots bring the viewer right into the action, allowing us to feel as if we're part of the game. So much you will at times have trouble distinguishing what's imaginary and what's real. Composers Eric Cadesky and Nick Dyer crafted an intricate score that's surprisingly heavy, serving as a perfect dramatic counterpoint to the child's play in the great outdoors. The action dictates the viewer's emotions, not the clichéd tugging of heartstrings with violins and cellos, and that's as it should be.

I Declare War is a delightful dark comedy that makes war film cliches amusing and one that makes reminds how it to be a kid. It is gleefully overblown, ridiculous, and allot of fun just like the times we all played games with our friends as kid.
Caesar Mendez
Super Reviewer
I Declare War Quotes
Kwon: What are you doing after the war?
PK: You are coming over and eating pizza and watch some movie.
Discussion Forum
Discuss I Declare War on our Movie forum!
News & Features