Jay and Silent Bob Strike Back
(2001)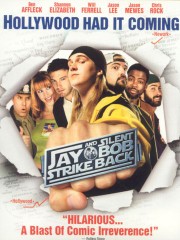 TOMATOMETER
AUDIENCE SCORE
Critic Consensus: Fans can expect a good laugh as the cast from Smith's previous films reunite for Jay and Silent Bob's last bow. The loose plotting and crude language may be too much for others though.
Jay and Silent Bob Strike Back Trailers & Photos
Movie Info
Once upon a time in a galaxy very, very close to New Jersey Jay and Silent Bob stumble upon something new called the internet and discover that Miramax is making a movie about their alter-egos, "Bluntman & Chronic." In order to hang onto what tiny crumbs of credibility they have left, the dazed duo set off for California to stop the evil movie studio from making the flick. On a raucous road trip from Red Bank, New Jersey to Miramax's California studios, Jay and Silent Bob meet up with girl gangs, hitchhikers and Hollywood stars; they fall in love and watch bullets fly; they kidnap an ape and aim to take down the studio big chiefs. But most of all, they do what they do best: wreak havoc.
more
| | |
| --- | --- |
| Rating: | R (for nonstop crude and sexual humor, pervasive strong language, and drug content) |
| Genre: | Comedy |
| Directed By: | Kevin Smith |
| Written By: | Kevin Smith |
| In Theaters: | Aug 24, 2001 Wide |
| On DVD: | Feb 26, 2002 |
| Box Office: | $29.9M |
| Runtime: | |
Cast
News & Interviews for Jay and Silent Bob Strike Back
Critic Reviews for Jay and Silent Bob Strike Back
Audience Reviews for Jay and Silent Bob Strike Back
½
It's very funny, but very silly. Anyway is terrifc see a movie to Jay and Silent Bob.
½
Jay: I am the master of the C.L.I.T. Remember this fucking face. Whenever you see C.L.I.T., you'll see this fucking face. I make that shit work. It does whatever the fuck I tell it to. No one rules the C.L.I.T like me. Not this little fuck, none of you little fucks out there. I AM THE C.L.I.T. COMMANDER! Remember that, commander of all C.L.I.T.s! When it comes down to business, this is what I do. I pinch it like this. OOH you little fuck. Then I rub my nose with it. 

"Hollywood had it coming"

Jay and Silent Bob Strike Back is one of my go to movies. No matter how many times I watch it, I still find it hilarious. The dialogue between characters is what sets Kevin Smith's comedies apart from everyone else's. No his writing is subtle or tasteful, but there's a brilliance in his jokes and their just hilarious. I don't know that there's a better movie to smoke a "J" to. The first scene of the movie may be one of my favorite comedy scenes of all time.

Jay and Silent Bob find out that a movie is being made on a comic book that is based off of them. They then read online(What the fuck is the internet?) a bunch of people's opinions on Bluntman and Chronic. All of which say they are dumb characters and don't deserve a movie. Jay and Silent Bob then make their way across America to try to destroy the production of the movie. Along the way they run into Scooby's Gang, 4 sexy jewel thieves, a monkey, and a really stupid animal officer played by Will Farrell. 

This movie has endless cameos including: Wes Craven, Gus Van Sant, Matt Damon, Chris Rock, and Tracey Morgan. The movie has endless lines that just beg to be re-said. In fact this may be my most quoted movie. There's just nothing not to like about Jay and Silent Bob Strike Back, in my opinion. Now I know that the content isn't for everyone. There are people out there that shouldn't watch this because they will be terribly offended. Grandparents for one, shouldn't watch Jay and Silent Bob. Some of the content could kill them. 

What's really cool about this film from Kevin Smith is that it is a parody of the same movie we are watching. I don't know if I've ever seen another movie parody itself, but it works here. It also helps if you are familiar with Smith's other works because they are referenced a lot. Still, if this was the first Smith film you ever watch, you could still enjoy it. 

Jay: [singing] Fuck, fuck, fuck, fuck, / Mother, mother fuck, / Mother, mother fuck, fuck / Mother fuck, mother fuck, / Noise noise noise, / 1, 2, 1, 2, 3, 4, / Noise, noise noise / Smokin' weed, smokin' wizz, / Doin' coke, drinkin' beers, / Drinkin' beers, beers, beers, / Rollin' fattys, smokin' blunts, / Who smokes the blunts? / We smoke the blunts. / Rollin' blunts and smokin'... 
Teen #2: Uh, let me get a nickel bag. 
Jay: [singing] / Fifteen bucks, little man, / Put that shit in my hand, / If that money doesn't show, / Then you owe me, owe me, owe, / My jungle love, yeah, / Owe-ee, owe-ee, owe, / I think I want to know ya, know ya, / Yeah, what? 
Melvin White
Super Reviewer
Jay and Silent Bob Strike Back Quotes
Banky Edwards/Brodie Bruce: That's what the internet's for - slandering others anonymously.
Cock-Knocker: Don't fuck with a Jedi Master, son.
Jay: Affleck, you da bomb in "Phantoms," yo!
Holden McNeil: The internet has given everyone in America a voice, and evidently everyone in America has chosen to use that voice to bitch about movies.
Discussion Forum
Discuss Jay and Silent Bob Strike Back on our Movie forum!
News & Features