Jean De Florette
(1986)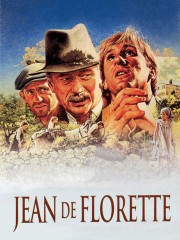 Tickets & Showtimes
Jean De Florette Trailers & Photos
Movie Info
Co-adapted by director Claude Berri from a novel by Marcel Pagnol, this hugely successful French historical drama concerns a bizarre battle royale over a valuable natural spring in a remote French farming community. City dweller Jean Cadoret (Gérard Depardieu) assumes ownership of the spring when the original owner is accidentally killed by covetous farmer Cesar Soubeyran (Yves Montand). Soubeyran and his equally disreputable nephew Ugolin (Daniel Auteuil) pull every dirty trick in the book to force Cadoret off his land, but the novice farmer stands firm. Although the Soubeyrans appear to gain the upper hand, the audience is assured that they will eventually be foiled by the vengeful daughter of the spring's deceased owner -- thus setting the stage for the film's equally successful sequel, Manon of the Spring.
more
Cast
News & Interviews for Jean De Florette
Critic Reviews for Jean De Florette
Audience Reviews for Jean De Florette
A deep, moving tragedy drawn from the bible's book of job. It reaches out as a lesson in cinema and in life.
When Galinette (Daniel Auteuil) returns from military service to his farm house in France he plans to cultivate carnations. However he and his uncle Cesar Soubeyran (Yves Montard) don't have sufficient water on their land to feed a profitable crop. When they find an unused spring on a neighbour's land they block in and plan to buy the land. When the land is inherited by Jean (Depardieu) and his family, Galinette and Cesar plan his downfall so they can later buy his land and use his spring for their crops.

This is a beautifully filmed movie - almost a tourist film for the France countryside. However the plot is not so picturesque, but rather deals with the conflicting human qualities of hope and greed, enthusiasm and envy. Jean represents the spirit of hope, a city worker who comes to the farm with new plans for breeding rabbits, growing vegetables etc., all to the scorn of the locals who believe his mad schemes will never work. Cesar represents the greed of the film, he drives the plan to frustrate Jean to the point that he'll leave and sell his land for cheap. The main character is Galinette, and it is him that we're meant to follow. He starts with the gentle dream of building up his land and growing his flowers but during the course of the film he is changed by the envy of Jean and the greed added to by Cesar. While Jean is the study of a man driven by hope who fights frustration and despair throughout, Galinette gives into greed to achieve his dream. It isn't reading too much into it to see Cesar as the devil driving Galinette while Jean is watched over by Manon (Mazurowna) his angel daughter.

The performances are good with Auteuil (Galinette) good as the man torn by his desires. Depardieu and Montard (Cesar) are good as the flip sides of humanity. Mazurowna is good as Manon, she doesn't have too much to do but is good considering her age. The three male leads are the key and don't disappoint - they are all totally believable in their roles as devils, angels and mankind placed in the bodies of French farmers.

This film is powerful as it gradually shows us how greed corrupts and perhaps how hope is not a quality appreciated by all - especially where envy exists. It is difficult to stomach because we're meant to like Galinette from the start but the ease with which he changes it alarming, but all the more frightening by the way it could easily happen to anyone in their life.

The film is not complete as it is "part one" with the sequel "Manon Of The Springs" providing the conclusion. On it's own the conclusions it leaves you with are perhaps realistic but quite bleak none the less. This is an interesting, beautifully shot study of human nature in all it's horror.
David Ladd
Super Reviewer
Jean De Florette Quotes
Discussion Forum
Discuss Jean De Florette on our Movie forum!
News & Features