The Karate Kid
(1984)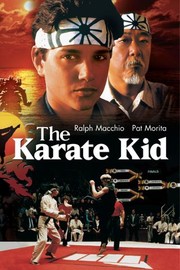 TOMATOMETER
AUDIENCE SCORE
Critic Consensus: Utterly predictable and wholly of its time, but warm, sincere, and difficult to resist, due in large part to Pat Morita and Ralph Macchio's relaxed chemistry.
The Karate Kid Trailers & Photos
Movie Info
Newly arrived in California from New Jersey, teenager Daniel (Ralph Macchio) almost immediately runs afoul of karate-trained high school bullies. He is rescued by Japanese janitor Miyagi (Noriyuki "Pat" Morita), who agrees to teach Daniel how to harness karate for good instead of brutality. The film culminates in a championship karate bout, pitting Daniel against his sworn enemy Johnny (William Zabka) -- the cruel and thuggish boyfriend of Ali (Elisabeth Shue), with whom Daniel has fallen in love (and vice versa). Real-life karate champ Chuck Norris was offered the role of Kreese, the sadistic coach who goads Johnny into fighting dirty, but Norris turned down the role, refusing to be shown utilizing his skills negatively onscreen. Vastly popular, The Karate Kid spawned three sequels of rapidly descending merit, as well as a Saturday-morning cartoon series. ~ Hal Erickson, Rovi
more
Cast
News & Interviews for The Karate Kid
Critic Reviews for The Karate Kid
Audience Reviews for The Karate Kid
every watch solidifies my feelings for this film that im sure ive seen a dozen times. my love for elizabeth shue is part of the reason i struggle with the sequels, due to her absence. the film is more depth and less stereotypical martial arts fare. i love this film.
The classic story of friendship and coming of age. Karate Kid tells the story of Daniel LaRusso played by Ralph Macchio who learns karate from his elderly caretaker, Mr. Miyagi, played by the late Pat Morita. It's a simple story, but it's very enjoyable. Along the way, Daniel falls in love with a girl named Ali played by Elisabeth Shue. Her ex-boyfriend, Johnny is the guy who constanly bullies Daniel by beating the crap out of him with karate. It happens a lot and Daniel is eventually saved by Mr. Miyagi. At first glance, Miyagi may not look like a threat, but when he beats up the bullies with his karate, he doesn't just beat them up; he shows them what real karate looks like: a good form of defense rather than another weapon. Miyagi agrees to teach Daniel karate, but with different techniques. Even if you haven't seen the movie, you have to be familar with "Wax on, wax off." If you're not shutting yourself in your room with the curtains drawn playing Call of Duty all day, then you will have heard that saying at least once. Another thing is that the movie is called the Karate Kid, but not all emphasis is put on Karate. One of the things the director spends time with is building the relationship between Daniel and Miyagi. Daniel doesn't have a father and Miyagi lost a son so they fill a viod for eachother. It actually plays out perfectly. Another thing I have to mention is the main villain. Not Johnny, but his karate sensei, John Kreese. He's played by Martin Kove and he's batshit crazy in his role. He constanly uses the term "No mercy" and he gets pleasure from seeing Daniel in pain. Why? For shits and giggles I suppose. He may be over the top, but it's in a good way. He's crazy and makes Hannibal Lector look like Mr. Rogers, but he's really fun to watch. There's one scene in the movie near the end where one of Johnny's friends is yelling in the background when Daniel and Johnny are fighting. He's going crazy and yelling a bunch of stuff like "Get him a body bag!" Every single time I see it, I just laugh my ass off. It might have to do with the fact that he is probably what Kreeses might've been like as a teenager. I remember once me and one of my friends were going to watch this movie at my house and it was his first time seeing it. After the movie was over he bought "You're the best" off iTiunes and spent about an hour and a half listening to it while practicing his crane kick. No joke, he's practically in love with the movie. I can see why. It has great acting, well choreographed fight scenes, a fun story, a perfectly pitched tale of friendship and fun characters. I extremely liked Daniel in this because he's from New Jersey and he' an average kid who wants to fit in. It was refreshing to see a Jersey character whose dialogue didn't consist of stuff like this:
"Kiss my ass, fuck you! Imma go get drunk at the bar and start a fight!"
"Buy some spray on tan and steroids while you're out!"
"Fuck yeah I will. Maybe later us and the girls can have an eight-some."
The Karate Kid Quotes
Miyagi: Walk left, safe. Walk right, safe. Walk in the middle, you get squished like a grape.
Miyagi: [Driver's] License never replace eye, ear and brain.
Miyagi: Trust [the] quality of what you know, not [the] quantity.
Miyagi: Wax on... Wax off, wax on... wax off.
Discussion Forum
Discuss The Karate Kid on our Movie forum!
News & Features