Knight & Day
(2010)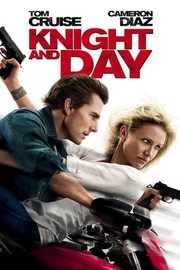 TOMATOMETER
AUDIENCE SCORE
Critic Consensus: It's pure formula, but thanks to its breezy pace and a pair of charming performances from Tom Cruise and Cameron Diaz, Knight and Day offers some agreeably middle-of-the-road summer action.
Knight & Day Trailers & Photos
Movie Info
A single girl en route to a family wedding gets swept up in a fight between a rogue government agent and the FBI in this globe-trotting action comedy from director James Mangold (Walk the Line, 3:10 to Yuma). June Havens (Cameron Diaz) is preparing to board a flight back home for her sister's wedding when she literally bumps into Roy Miller (Tom Cruise) in the middle of a busy airport. A few minutes later, they're making small talk on the plane when June excuses herself to the bathroom, and all hell breaks loose in the fuselage. By the time June emerges Roy has killed everybody on board, including the pilots. After crash-landing the plane in a darkened cornfield, Roy tells June that she should expect a visit from government agents, but warns her that by cooperating with them she risks almost certain death. The following day, Roy's prediction comes true when June is confronted by an imposing gang of government spooks who come under heavy fire while bombarding her with questions about her mysterious traveling companion. Suddenly, Roy is back, and he's once again whisking June away to safety. But what do the agents want, and why do they insist that Roy is the one to be feared, and not them? Before long the girl who never traveled far from home is off on a wild adventure that will take her from the tropics to Austria, France, and Spain. Somewhere amidst all of the confusion and gunfire, June begins to forge a bond with Roy. Unfortunately, it's never quite clear whether her unpredictable protector is one of the good guys or the bad guys, and by the time Roy reveals that he's attempting to protect a valuable new energy source, there's no time for questions. Paul Dano, Viola Davis, Peter Sarsgaard, Maggie Grace, and Marc Blucas co-star.
more
Cast
News & Interviews for Knight & Day
Critic Reviews for Knight & Day
Audience Reviews for Knight & Day
½
An ordinary suburban woman unwittingly becomes the sidekick to a heavily armed covert operative on the run from his own agency and an international arms dealer when she bumps into him at an airport terminal. Knight & Day is EXACTLY what you'd expect from a film starring Tom Cruise and Cameron Diaz. It's a cynical attempt to be a rom-com version of The Bourne Identity in a desperate attempt to lure as many undemanding cinema-goers into the theatres as possible; romance for the girls and action for the boys with big names duly attached. It goes through the motions of the same stunts, car chases, shoot outs and comic mishaps we've all seen a million times before and is basically the kind of thing Mel Gibson used to be so good at before he became a fat, ageing bigot. Unfortunately Cruise just doesn't have the comedic chops to pull it off, being more Jerry Maguire than James Bond and there is next to no chemistry between he and the jabbering, squealing Diaz. It's probably great fun to Tom Cruise and Cameron Diaz fans (basically the kind of cinema goers who see the movies as an excuse to put their brains in neutral for two hours) but anyone with discerning taste will see it for what it is; a joyless, mechanical and desperately formulaic slice of pointless Hollywood pap.
½
Cameron Diaz and Tom Cruise give some pretty good performances in Knight & Day which elevates this formulaic summer action-comedy considerably. It's got a good pace, good chemistry, a somewhat implausible and predictable story (but hey, it's summer fun, so what does that matter?), and some good cinematography. Paul Dano also gives a really nice performance as Simon Feck. I found it to be great fun, charming and occasionally funny, and I found the ending quite touching and suitable (and funny). Others may find it cheesy....
Knight & Day Quotes
June Havens: He was charming.
Fitzgerald: Charming one minute, homicidal the next.
Roy Miller: No one follows us or I kill myself and then her.
Roy Miller: June Havens! You've got skills!
Roy Miller: I don't believe in fate. I believe in luck.
Discussion Forum
Discuss Knight & Day on our Movie forum!
News & Features