Layer Cake
(2005)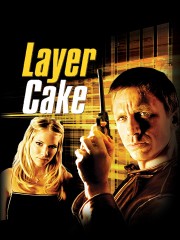 Layer Cake Trailers & Photos
Movie Info
Just as a successful cocaine dealer, who has earned a respected place among England's Mafia elite, eyes an early retirement from the business, big boss Jimmy Price hands down a tough assignment: find Charlotte Ryder, the missing rich princess daughter of Jimmy's old pal Edward, a powerful construction business player and gossip papers socialite. Complicating matters are two million pounds' worth of Grade A ecstasy, a brutal neo-Nazi sect and a whole series of double crossings.
more
Cast
News & Interviews for Layer Cake
Critic Reviews for Layer Cake
Audience Reviews for Layer Cake
Stylish, energetic, but overall run-of-the-mill crime thriller, with a convoluted twisty plot and too many characters, which might be a good thing for fans of "Snatch", but I found it more manipulative and confusing than deep and engaging.
½
A kinetic and razor sharp crime-thriller. It packs style and brains. It's got the style of Lock, Stock and two smoking barrels, Resivor dogs and Goodfellas. It`s wild, fresh, stylish and frequently funny. It's brilliant, gripping, compelling and electrifying. Gangster films don't get any better than this. One endlessly cool flick that has you thinking right till the end. You'll be intrigued, thrilled and amused and definitely entertained. A pure and wickedly awesome adrenaline rush. A unique, clever, intelligent, hard-boiled and hard-edged flick that will have you on the edge of your seat. Director, Matthew Vaughn crafts a near perfect crime film and is a wonderful directional debut. Daniel Craig gives a sensational performance.
Layer Cake Quotes
Morty: [XXXX is beaten and bloodied on the ground] You killed crazy Larry?
Gene: So? This fucker killed Jimmy! [kicks XXXX in the chest]
XXXX: Oh. Jesus Christ!
Morty: [grabs XXXX by his shirt] Why did you do it?
XXXX: He was an informer! He was a police informer!
Gene: Jimmy, a grass? Are you fucking mad? You'll have to do better than that.
XXXX: I've got a recording at home, of Jimmy and a cozzer called Albie Carter.
Morty: Gene, let's listen to this shit. If he's lying, we'll both fucking kill him.
XXXX: [answering his phone] Who is this?
Dragan: My name is Dragan.
XXXX: How did you get this number?
Dragan: Boatman Paul gave me your number, in the end.I believe you have some property that belongs to my employer and you're the person I should talk to about the return of this cargo stolen by your associate, the Duke.
XXXX: Dragan, the Duke is nothing to do with me.
Dragan: Mr. Duke came to Amsterdam, used your name, said he worked for you. Are you listening?
XXXX: Dragan... I've got an idea. Why don't you come round for breakfast, I'll squeeze some orange juice and grind some coffee and we'll talk about this like adults, how does that sound?
Dragan: Sounds very hospitable.
XXXX: Do you know where I live?
Dragan: No.
XXXX: Well fuck off then. [hangs up]
Morty: Why did you keep the gun?
Gene: Silly as sounds, but it was me favorite.
Morty: I hope you don't tell your other guns that you have a favorite. [Gene and XXXX laugh]
Cody: [impersonating a police captain] Is the area now secure?
Tiptoes: Yes sir.
Cody: Well you can fuck off then, can't you?
Discussion Forum
Discuss Layer Cake on our Movie forum!
News & Features