Leprechaun 3
(1995)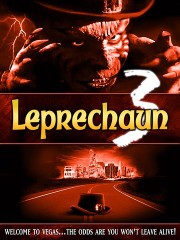 Tickets & Showtimes
Leprechaun 3 Trailers & Photos
Movie Info
We've all heard of the luck of the Irish, but no one feels very lucky in Las Vegas when the Leprechaun visits Sin City in this, the third feature in the Leprechaun franchise. A Las Vegas pawnbroker buys a statue of a leprechaun from a hobo, but then makes the mistake of taking the gold medal hanging around the statue's neck. Turns out it's no statue after all, and taking away the charmed necklace brings the leprechaun back to life. The mean-spirited little man (played, once again, by Warwick Davis) kills the pawnbroker and sets out to find his pot of gold. However, he forgets that he's left behind a magic coin and when he returns to get it, he discovers it's gone, having been taken by a college student named Scott (John Gatins) who happened upon the shop. While the coin brings a bit of good luck to Scott, things change when he discovers he has a murderous leprechaun on his trail. Leprechaun 3's Las Vegas adventure was followed a year later by the even more unlikely Leprechaun 4: Leprechaun in Space.
more
Cast
News & Interviews for Leprechaun 3
Critic Reviews for Leprechaun 3
Audience Reviews for Leprechaun 3
Leprechaun 3 continues in a big location, making it pretty fun. Las Vegas is a great setting for a killer leprechaun movie. It allows the film to play with themes such as greed and temptation in an appropriate setting. The leprechaun is kept busy for a while as we are introduced to other characters. The film conjures up some new mythology and magic, keeping it fresh if a little contradictory to the films before it. Now leprechauns are like werewolves, as our hero starts to turn into one after a nasty bite. The real highlight is a partnership that really should be remembered as one of the great buddy acts. A loan shark and his heavy share such chemistry and warmth it is genuinely funny and endearing. A great continuation, even if the familiar parts drag.
½
The Leprechaun (Warwick Davis) returns to find peoples' unlucky sides in Las Vegas. There are some funny deaths with a magician act, a sexy robot girl and a facelift operation. It's almost as fantasy as an Elm Street movie. I wish they showed some more famous landmarks of Vegas on our tour.
Discussion Forum
Discuss Leprechaun 3 on our Movie forum!
News & Features