Little Ashes
(2009)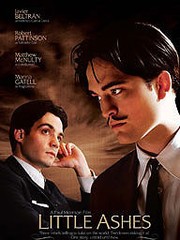 Little Ashes Trailers & Photos
Movie Info
In the midst of the repression and political unrest of pre-Spanish Civil War, eccentric artist Salvador Dalí and renowned poet and revolutionary Federico García Lorca find their artistic and sexual freedom. The two form a bond challenged by their fierce ambitions, their friends, the struggle between a love for Spain and a love for each other. Starring Javier Beltran, Robert Pattinson, Matthew McNulty, Marina Gatell, and Arly Jover.
more
Cast
News & Interviews for Little Ashes
Critic Reviews for Little Ashes
Audience Reviews for Little Ashes
'Little Ashes' follows the (at the time illegal) romance between famed painter Dali and poet Lorca. Dali is the main protaginist being portrayed by Robert Pattinson, who does a very good job despite the occasional lapse in his accent and proves that Twilight isn't his only role.

The story is well scripted with mostly good dialogue which sometimes is lost in the muddle of other noises and occasionally just becomes unhearable. The music however fits nicely and although doesn't boost the film still makes a fine addition.

The mise-en-scene in the film is very nice to look at despite one scene which I'm almost positive was a greenscreen, apart from that everything was beautifully shot amd framed in such a way that not only shows of the actors but the scenery.

Overall, not a great film but an enjoyayble one, it could of done with being 10 minutes shorter as it seemed like some moments were crammed in but for the most part it's an interesting insight into Dali.
Since I began writing reviews regularly, I've found myself becoming aware while I'm watching a film that I will have to have something intelligent to say about it. If I am not enjoying a film, I feel that I have to come up with a viable reason why. This was difficult for Little Ashes. I found myself complete unengaged with the film, and it was difficult to pinpoint why or what the filmmakers could have done to fix the problem. The best that I can determine is that the film frequently wanders. Is this a film about boys becoming men at school? Sorta. Is it about homosexuality? KInda. Is it a political drama? I guess. Even sprawling biopics generally have a central theme or character that pushes them forward, and we see no such thing in the story of Garcia Lorca and Dali.
And Robert Pattinson. Clearly, I find Edward Cullen insufferable and the Twilight movies banal. But I had no great hatred for the actor until now. He is truly, truly awful in this film. I can't remember a single action that seemed motivated, and there is little reason to believe that Garcia Lorca would love/obsess over Pattinson's Dali. It is true that Salvador Dali often turned his life and his behavior into a twentieth century Diogenes, but we don't see satire in Pattinson's Dali; we see dumb schtick.
Overall, this film is chore.
Jim Hunter
Super Reviewer
Little Ashes Quotes
Salvador Dali: From this point on, my real life begins.
Federico Garcia Lorca: Your real life? And what about this life? You can't just abandon everything!
Salvador Dali: Abandon what? Sitting in an art room all day, going out of my mind with boredom? Drinking myself into a stupor every night? I'm so sick of it!
Federico Garcia Lorca: How can you say that? Your painting's never been better. This isn't you, Salvador. What's happened to you?
Salvador Dali: Federico, why can't you just be happy for me?
Salvador Dali: If I'm going to be anything more than average, if anyone's going to remember me, then I need to go further in everything: in art, in life, in everything they think is real: morality, immorality, good, bad, I, we, have to smash that to pieces, we have to go beyond that, we have to be brave. no limit.
Discussion Forum
Discuss Little Ashes on our Movie forum!
News & Features