The Man Who Could Cheat Death
(1959)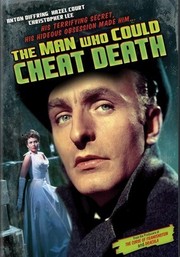 AUDIENCE SCORE
Critic Consensus: No consensus yet.
Movie Info
After emerging as a potent force in the genre with Horror of Dracula, Hammer Films added their handsome Gothic touch to this lesser-known remake of the 1944 suspenser The Man in Half Moon Street (itself adapted from a play by Barre Lyndon). Anton Diffring stars as a century-old artist who maintains a youthful appearance by regularly replacing certain glands -- in transplants that he receives thanks to the unwilling participation of healthy donors. Despite his outward physical vitality, his advanced years lead to an increasing mental instability, evinced by his mad obsession with an old flame (Hazel Court) whose newfound love for a suave doctor (Christopher Lee) compels Diffring to commit acts of diabolical cruelty that ultimately become his grisly undoing. Directed by Hammer regular Terence Fisher, who applies a high polish to this atmospheric period thriller. ~ Cavett Binion, Rovi
more
Cast
News & Interviews for The Man Who Could Cheat Death
Critic Reviews for The Man Who Could Cheat Death
Audience Reviews for The Man Who Could Cheat Death
The truth is revealed early on leaving nothing much for the rest of the film.
There are so many reasons to see The Man Who Could Cheat Death. It's an early Hammer film and one of the best and it features a young Christopher Lee. The story, while not entirely original (it's a mix of "Dr. Jekyll and Mr. Hyde" and "The Picture of Dorian Gray") is quite good, the acting is uniformly strong, and the production values are top-notch. If you're a fan of classic British horror and haven't seen this one, you're really missing out!

This is a period piece set in 1880's Paris. Anton Diffring plays surgeon Georges Bonner. He and a very old friend have found the secret of immortality in a green, bubbly fluid, but if Bonner doesn't take it every six hours, he turns into a greenish monster whose touch burns. They need to install a gland from an unwilling living donor in order to stop this, but Ludwig (Arnold Marie), the only surgeon who can perform the operation, is nearly 90 and has had a stroke that has incapacitated his right hand. Needing a new surgeon, they attempt to procure the services of Dr. Gerrard (Christopher Lee). Gerrard balks at the unethical nature of the procedure, so Bonner kidnaps their mutual love interest, Janine (Hazel Court) to force him. Gerrard pulls a fast one on Bonner, of course, setting up a nice, over-the-top twist ending.

There's one plot element in the beginning of the film that's dropped by the end, but given The Man Who Could Cheat Death's numerous strengths, it's forgivable. Don't look for gore and explicit violence here; this is a very British film, and much of the horror is implied and the director isn't afraid to let his strong cast speak and act. It's not one of the scarier horror films ever made, including many of Hammer's own offerings, but it is an interesting and enjoyable flick. Classic horror film fans should add this one to their lists!
Discussion Forum
Discuss The Man Who Could Cheat Death on our Movie forum!
News & Features