The Man Who Shot Liberty Valance
(1962)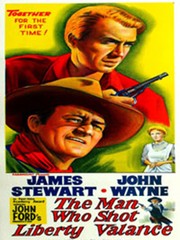 The Man Who Shot Liberty Valance Trailers & Photos
Movie Info
Eastern attorney Ranson Stoddard (James Stewart) heads to the wild West in search of a new life. He settles in the small town of Shinbone where he meets up with Liberty Valance (Lee Marvin). Valance is as bad a villain as there ever was, and his dastardly deeds are financed by an evil conglomerate resolute on stopping the territory from gaining statehood. When Valance beats Stoddard to a bloody pulp, Stoddard is rescued by rancher Tom Doniphon (John Wayne). Tom helps Ranson to a nearby restaurant where owner Hallie (Vera Miles) who patches him up and gives him a job as table server. Valance and his sadistic sidekicks delight in berating the hapless waiter, branding him as "yellow." Once again, Tom comes to the rescue when Ranson is tripped by Valance and spills his food. Ranson's only allies appear to be Hallie, Tom, and a dipsomaniac newspaper publisher named Dutton Peabody (Edmund O'Brien. When Peabody prints an article which advocates statehood, he is beaten by Valance and his vermin and his printing office is wrecked. Having stood by and watched the action long enough, Stoddard places his lawyer's shingle in front of the newspaper office. This sets the stage for a showdown between the lawless Valance and the lawful Stoddard, while Tom waits in the wings and watches. Film is directed by John Ford.
more
Cast
News & Interviews for The Man Who Shot Liberty Valance
Critic Reviews for The Man Who Shot Liberty Valance
Audience Reviews for The Man Who Shot Liberty Valance
Chris Weber
Super Reviewer
½
Ford's last masterpiece. A truly epic story of the end of the old west, Stewart and Wayne put in masterful performances.
½
I initially wasn't too enthused about the idea of sitting down with this film. While I certainly admire John Ford, I had grown accustomed to the more coarse view of human nature on display in the spaghetti westerns of Leone, Corbucci, and Petroni. However, I was in for quite a pleasant surprise with this film.
The film centers on the life of Rance Stoddard (Jimmy Stewart) and his return to the Western town where he came of age. In a series of flashbacks, we follow the exploits of Stoddard and his brush with the town's hero Tom Doniphon (John Wayne), and the town menace Liberty Valance (Lee Marvin). Yet, while this seems to have all the makings of a classic good vs. evil confrontation, Ford plays around with the idea of justice.
As if representing two adverse parts of the brain, Wayne and Stewart are ardent about fighting their own fights in their own ways. For Wayne, justice can be achieved with old-school heroism, a little gunpowder, and a dash of wit. For Stewart, the law of the land is sufficient and he is intent on reshaping the town's attitudes in such a way. Both men mock the avenues taken by their counterpart and blindly follow what they know to be true. They are two opposing forces, both immensely powerful in their own right. However, influence eventually leaks in on both sides and both men seem to come to at least some sort of understanding regarding the importance of their separate ways.
This sense of duality is strongly diffused throughout the picture and Ford highlights this visually by his expert use of shadows. In most shots, the characters shadows are projected on the wall behind them as if to showcase the dual nature that lurks in the hearts of these men. Yet, rather than casting judgement, it seems as though Ford wants to illuminate and understand these two opposing ways of life, and to lament the passing of western way.
Being one of Ford's last films, the viewer gets a sense that he knew the rule of the Western was coming to an end. Although Wayne is just in his own way, his character seems to know that the times are changing. No longer does having the fastest draw bring virtue and success and Wayne's character goes through a heartbreaking acceptance that Stewart's generation is taking over. In one shot in particular, Ford has Stewart's character standing in front of an old stage coach covered in dust and cobwebs. It is an homage to the old west that is both understanding and mournful.
While Clint Eastwood's "The Unforgiven" has long be touted as the definitive eulogy of the western, I would argue that Ford's film is a much more fitting tribute to such a wonderful genre of film.
The Man Who Shot Liberty Valance Quotes
Tom Doniphon: Liberty Valence is the toughest man south of the picket wire... next to me.
Liberty Valance: Well, lookie at the new waitress.
Liberty Valance: Alright dude, this time right between the eyes!
Dutton Peabody: Liberty Valence, and his vermadons!
Maxwell Scott: This is the West, sir. When the legend becomes fact, print the legend.
Discussion Forum
Discuss The Man Who Shot Liberty Valance on our Movie forum!
News & Features