Manderlay
(2006)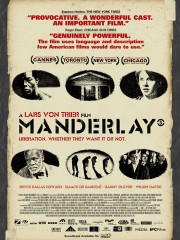 TOMATOMETER
AUDIENCE SCORE
Critic Consensus: Manderlay may work better as a political statement than as a film, making its points at the expense of telling a compelling story.
Manderlay Trailers & Photos
Movie Info
The politics of slavery and the follies of nation-building highlight Danish director Lars von Trier's thought-provoking follow-up to the director's 2003 drama Dogville, featuring The Village's Bryce Dallas Howard in the role originally played by Nicole Kidman, and shot in the same stage-bound style as its predecessor. Shortly after leaving Dogville, Grace (Howard) and her father (Willem Dafoe) wander into a gated Alabama community still operating under the tenets of slavery. Appalled to stumble across a brutal scene in which a white master is viciously lashing his slave (Isaach de BankolÚ), Grace hastily intercedes and pleads with the abusive man to treat his workers with respect and dignity. When merciless matriarchal plantation owner Mam (Lauren Bacall) dies shortly thereafter, the remaining slaves, who have never tasted freedom and only known life under "Mam's Law," implore the sympathetic Grace to help ease their turbulent transition toward democratic rule, with disastrous results. ~ Jason Buchanan, Rovi
more
Watch it now
Cast
News & Interviews for Manderlay
Critic Reviews for Manderlay
Audience Reviews for Manderlay
½
The mid-point of Lars von Trier's 'American trilogy', Manderlay follows up Dogville in it's presentation of the hypocrisy of a fictional-but-it-most-certainly-could-be-real town in the good ol' US of A.
Rather than another case of snide back-stabbing in such backwater towns, Manderlay takes us (and Grace) to a small village in which slavery is still going ahead. Grace is quick to point out the error of everyone's ways here, even arguing her father's gangsters have more humanity, and her trust and optimism later prove to be here downfall.
The sets are once again less than minimal, mostly rooms are defined by chalk outlinesm with occiasonal 'real pieces', such as a donkey powering a well. Though still powerful cinema, by its very nature lacks the innovation of the first, and thus the impact.
Other flaws occur, such as Grace's recasting as Bryce Dallas Howard. Not that she gives a bad performance; she simply doesn't look like Kidman, nor does she have her screen prescence. Another issue is her sudden precociousness (at nights she lusts for a local 'black buck'), which seems implausible after her sexual torment in Dogville.
The third act is a belter, though, ably illustrating von Trier's true colours with some pitch-perfect, arguably por-slavery humanistic drama.
Imperfect, but powerful.
½
[font=Century Gothic]"Manderlay" takes place after the events in "Dogville". Grace(Bryce Dallas Howard, a vast improvement over Nicole Kidman), her mobster father(Willem Dafoe) and their gangster retinue make their way east to Alabama where they discover a plantation, Manderlay, where the slaves have not yet been freed, even though it is 1933. Freeing them is the easy part; ensuring their former masters do not take advantage of them is another matter completely. So, Grace takes half of her father's men including his legal advisor and sets to occupy Manderlay until full liberation has occurred.[/font]
[font=Century Gothic][/font]
[font=Century Gothic]"Manderlay" is a better movie than "Dogville" and I found the plot very plausible. The film best serves as an allegory of the Second Gulf War and the ensuing occupation. Even the artifice of the sparse stage works better this time around. Lars von Trier again makes another critique of democracy but leaves his obsession of female martyrdom to Niki Caro.[/font]
Manderlay Quotes
Grace's Father: When push comes to shove, you've made everything worse, like you did with Tweety.
Grace: We have done them a great wrong. It's our abuses have made them what they are.
Discussion Forum
Discuss Manderlay on our Movie forum!
News & Features