Mandingo
(1975)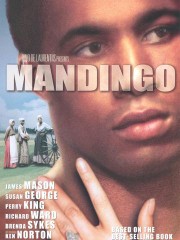 Tickets & Showtimes
Mandingo Trailers & Photos
Movie Info
Richard Fleischer directed this lurid historical drama based on the novel by Kyle Onstott. The story begins on a run-down plantation lorded over by Warren Maxwell (James Mason) and his son Hammond (Perry King). Hammond travels to New Orleans where he buys a top-of-the-line slave, Mede (Ken Norton), at an auction. Hammond is proud of his purchase, hoping to bring in money by training Mede to fight his other slaves. Hammond returns with Mede to the plantation, where he has to contend with his sex-crazed wife Blanche (Susan George). Hammond looks upon Blanche as damaged goods since he discovered her to not be a virgin on their wedding night. Instead, Hammond prefers erotic pursuits with his slave Ellen (Brenda Sykes). Blanche licks her lips at the sight of Mede, and seduces him to get revenge on her husband. Blanche soon becomes pregnant and gives birth to a half-black baby. Enraged, Hammond comes after Blanche, poisons her, and then the child bleed to death before going after Mede.
more
Cast
News & Interviews for Mandingo
Critic Reviews for Mandingo
Audience Reviews for Mandingo
Chris Weber
Super Reviewer
She's gonna be my bed wench.

Hammond is the son of a wealthy slave owner in southern America. They reside on a plantation and Hammond has recently become married. He believes in treating slaves better than his father and he falls in love with one of his bed wenches. He also purchases a big slave that his father trains to become a bare-knuckle fighter. Hammond doesn't love the idea of training the slave and the wife becomes jealous of Hammond's bed wench and seeks revenge. Hammond's home is about to be flipped upside down.

"It just popped out like a seed out of a peach."

Richard Fleisher, director of Red Sonja, Amityville 3-D, Conan the Destroyer, Mr. Majestyk, See No Evil, Tora! Tora! Tora!, Doctor Dolittle (1967), and The Big Gamble, delivers Mandingo. The storyline for this picture is very compelling and well told. I loved the characters, settings, and felt the content was delivered appropriately intensely. The acting was solid and the cast includes Peter King, Susan George, James Mason, Ken Norton, Ben Masters, and Paul Benedict.

"Ain't you ever craved a white lady before?"

I was excited to find this on Netflix not too long ago and had to add it to my wish list. This is a well done period piece that is a bit underrated due to its intense content at times; however, I would say there is a step down in intensity from Django. Overall, this is a worthwhile picture that deserves a viewing.

"After you hang me, kiss my ass."

Grade: B+/A-
Kevin Robbins
½
"Mandingo" is a southern-fried stinkbomb that is almost gleeful in its shamelessness. A film that's so hilarious and hysterically offensive that it's a wonder that African-Americans nationwide didn't storm Paramount studios and slaughter the executives who green-lighted it.
Discussion Forum
Discuss Mandingo on our Movie forum!
News & Features