May
(2003)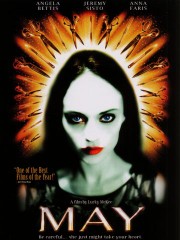 Tickets & Showtimes
May Trailers & Photos
Movie Info
May has always been a bit of an outsider--you might consider her a quirky girl. If you passed her on the street, you wouldn't notice that she is any different from scores of other young women trying to make their way in the big city. She lives alone, works as a veterinarian assistant, makes her own clothes, and dreams of finding the right person to fall in love with--soon. There is that hot guy who works as a mechanic down the street. A chance for romance looks promising, yet it's hard to be optimistic; he's not exactly normal either. Maybe she'll find what she's looking for with the sexed-up lesbian receptionist at work? As the adage goes, love tends to grow where you least expect it. What May really needs is a friend. But true friends are hard to make--unless you have plenty of body parts in your freezer waiting to be stitched together.
more
Rating:
R (for strong violence/gore, some sexuality and language)
Genre:

Drama

,

Horror

Directed By:

Lucky McKee

Written By:
Lucky McKee
In Theaters:
Jun 6, 2003 Wide
On DVD:
Jul 15, 2003
Runtime:
Cast
News & Interviews for May
Critic Reviews for May
Audience Reviews for May
½
May is the story of May an odd girl who is very weird. She's never really fit in anywhere. When she meets a guy, things go well, but she starts doing stuff and he leaves. That's when the horror starts. May is the type of horror film that blends horror and drama together, the film is pretty sad and you end up feeling sorry for May. The story itself is very well written, terrifying and dramatic all rolled into one. What surprised me most about this film is it's how well crafted the story was. May is an intense film and at times you feel uneasy and startled. In a worthy note, Anna Farris gives her best (and only) performance. May is a solid Horror film that successfully combines drama and horror to create a poignant, terrifying film. Director Lucky McKee directs a solid cast that give great performances here. May is a different type of horror film, one that pushes the limits of terror and it does it very well with the lead actress Angela Bettis giving a sad, psychotic performance as the title character; she makes this film what it is. Brilliantly conceived and well-written, this is a much needed film in the genre because we have so many unoriginal films in the horror genre nowadays. It's always great to see a director doing something different, something good and original. May is a disturbing film, one that horror fans should definitely check out. This is a brilliantly directed film and showcases the talents of a director who knows how to deliver shocks to an audience. One of the best films of its kind since Brian DePalma's Carrie.
I wasn't quite sure what to expect from this one, but I may be a little freaked out.

Here we have a girl who lives in her own world that she's made in every sense of the word.
Something on it's own, unique trip to a dark place within a darker mind; and I say alright.
May Quotes
May Canady: Where's Polly?
Ambrosia: In the head. Polly, hurry up in there! I've been drinking vodka all night and I have to piss like a racehorse!
May Canady: [giggles] hm-hm
Ambrosia: (gets annoyed and mimics May's giggle) - UM-HM!
May Canady: You have really beautiful legs.
Ambrosia: I thought they were gams?
May Canady: Gams, stems, wheels, whatever. Give us a little spin, doll.
Ambrosia: Huh?
May Canady: Turn around for me.
Ambrosia: You are so fu*king weird. I don't know what Polly sees in you.
May Canady: Polly doesn't see anything. Turn around, Miss Grable.
Ambrosia: Okay, doll (she does a sexy spin) How was that?
May Canady: Beautiful [May stabs Ambrosia in the temple with a scalpel, killing her]
Polly: You're funny. You want to watch me file?
Adam: So what do you do, May?
May Canady: I work at the animal hospital. And I sew.
Adam: Okay. Animal hospital.
May Canady: Some people think it's kind of gross.
Adam: I love gross.
May Canady: Really?
Adam: Mm-hmm. Disgust me, please.
May Canady: Okay. A couple of weeks ago, and old man comes in, and says his dog is dying. And he begs us to save it. A 90-pound black lad named Seymour. We take him in and run some tests, and find that he has a twisted bowel, and needs to be operated on immediately. So we shave Seymour's tummy, we cut him open, and take out a piece of intestine about - about the size of a hot dog. Everything went smooth, but when we went to sew Seymour back up, we realized we were out of the heavy sutures your supposed to use for large dogs. So the doctor decided that if we tripled up on cat sutures, that should do the trick. Well, a few days go by, and the old man calls up hysterical. The sutures had burst while he was at work, and by the time he got home, Seymour was sprawled out on the back porch with his guts spread all over the concrete, and the fence was soaked in blood all around the yard. It was a mess [Adam stares in disgust] I had to sew that one back up.
Polly: Do you feel weird doing this?
May Canady: I am weird.
Polly: I love weird.
Discussion Forum
Discuss May on our Movie forum!
News & Features