Modern Times
(1936)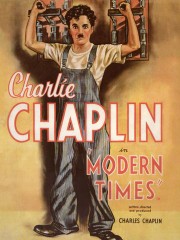 TOMATOMETER
AUDIENCE SCORE
Critic Consensus: A slapstick skewering of industrialized America, Modern Times is as politically incisive as it is laugh-out-loud hilarious.
Tickets & Showtimes
Modern Times Trailers & Photos
Movie Info
This episodic satire of the Machine Age is considered Charles Chaplin's last "silent" film, although Chaplin uses sound, vocal, and musical effects throughout. Chaplin stars as an assembly-line worker driven insane by the monotony of his job. After a long spell in an asylum, he searches for work, only to be mistakenly arrested as a Red agitator. Released after foiling a prison break, Chaplin makes the acquaintance of orphaned gamine (Paulette Goddard) and becomes her friend and protector. He takes on several new jobs for her benefit, but every job ends with a quick dismissal and yet another jail term. During one of his incarcerations, she is hired to dance at a nightclub and arranges for him to be hired there as a singing waiter. He proves an enormous success, but they are both forced to flee their jobs when the orphanage officials show up to claim the girl. Dispirited, she moans, "What's the use of trying?" But the ever-resourceful Chaplin tells her to never say die, and our last image is of Chaplin and The Gamine strolling down a California highway towards new adventures. The plotline of Modern Times is as loosely constructed as any of Chaplin's pre-1915 short subjects, permitting ample space for several of the comedian's most memorable routines: the "automated feeding machine," a nocturnal roller-skating episode, and Chaplin's double-talk song rendition in the nightclub sequence. In addition to producing, directing, writing, and starring in Modern Times, Chaplin also composed its theme song, Smile, which would later be adopted as Jerry Lewis' signature tune. ~ Hal Erickson, Rovi
more
Watch it now
Cast
News & Interviews for Modern Times
Critic Reviews for Modern Times
Audience Reviews for Modern Times
A classic, influential movie concerning the legendary "Tramp" character (Charlie Chaplin) and how he struggles to keep up in a modern day world of advances in the work force, which sadly makes going to jail seem like an appealing option. Despite mostly being a farce, this treasure of a film has a ton to say about society, and gives some different, touching looks on a few characters who are doing their best to make it in this world despite being at disadvantages financially and not having a real set of skills. The factory scenes with Chaplin are priceless, but it is the creatively constructed and moving finale that makes this film so special. This is an absolutely timeless comedy featuring one of the most iconic characters in all of film.
½
A factory worker and his homeless love struggle to fulfill the "American Dream" despite the advances of "progress."
This is how satire is done. Clear in its images -- The Tramp literally caught in the machinery -- and exact in what it's criticizing -- the Big Brother factory boss and the criminalization of the economically disenfranchised -- Modern Times is one of Chaplin's most precise and incisive comedies. In this film, The Tramp becomes more than an extension of vaudeville; he stands in for the poor everyman, and as a result Chaplin's work takes on a profundity and significance unique to him.
The filmmaking, or the direction, is quite strong. While this was supposed to be Chaplin's first talkie, it works better in the genre Super Reviewer Alice Shen calls a "neo-silent film" (she coins this phrase in reference to The Artist). Chaplin's use of sound occurs at strategic moments in the narrative: the corporate boss can speak as he has entered the mechanized age, but The Tramp stays mostly silent, only once singing in gibberish. Chaplin sets up the conflict between the ways of the past and the future in the film's technique as well as its theme.
I did think that the film occasionally fell into slapstick and schtick, abandoning its central concerns, but these moments were rare in the grand scheme of the film.
Overall, Modern Times ranks among Limelight and The Great Dictator as one of Chaplin's finest films.
Jim Hunter
Super Reviewer
Discussion Forum
Discuss Modern Times on our Movie forum!
News & Features