The Moderns
(1988)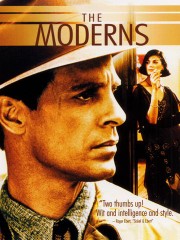 Tickets & Showtimes
Movie Info
In this witty comedy set in 1920s Paris, an art forger becomes involved with a complicated scheme involving several of his phony masterpieces. Things spin out of control, however, when the fakes are unknowingly sold to a wealthy businessman -- who also happens to be married to the forger's ex-wife.
more
Watch it now
Cast
News & Interviews for The Moderns
Critic Reviews for The Moderns
Audience Reviews for The Moderns
½
[font=Century Gothic]"The Moderns" takes place in 1920's Paris where Nick Hart(Keith Carradine) is a starving artist who makes his living drawing cartoons to accompany the columns written by Oiseau(Wallace Shawn) in the Tribune.(Taking the high road, he has declined a commission to forge three Cezanne paintings for a wealthy soon-to-be divorcee, Nathalie(Geraldine Chaplin).) Nick's former lover, Rachel(Linda Fiorentino), is in town, now married to a mysterious businessman, Bertram Stone(John Lone), who is rumored to have killed a man. So, of course, Nick slaps Rachel at the salon of Gertrude Stein(Elsa Raven). Since dueling is now out of fashion, Bertram and Nick instead agree to a boxing match...[/font]

[font=Century Gothic]"The Moderns" has an interesting setting and a fine cast but both are wasted in what is little more than a penis-measuring contest between Nick and Bertram. The movie is about the neverending battle between commerce and art but by not making it specifically about creating art, the film misses out on what made Paris in the 1920's special. Keith Carradine's wooden performance only hurts matters.[/font]
½
Made in 1988, this to me is a pretentious attempt at being a 1920's classic. Not only slow but will be for many boring. If it were not for the setting in art filled Paris where we are introduced to all sorts of literary icons.... Hemingway for one, this one with Keith Carridine in the lead as a starving artist could be better. The soundtrack is interesting with period operas, etc.

Nick Hart (Keith Carradine) is an expatriate American artist living in Paris among some of the great artists and writers of the time, including Ernest Hemingway (Kevin J. O'Connor), Gertrude Stein (Elsa Raven), and Alice B. Toklas (Ali Giron).

Carridine and everyone here is being directed to be some noir classic romance drama. Trenchcoats, hats, the cars and costuming all take us to expatriate France set in the roaring twenties. As a starving but intelligent artist, Carridine is persuaded to copy great art, producing fakes.

Not sure exactly what the title actually refers to, The Moderns could be indicative of the creative, artistic minds portrayed in the film. They all mingle together in bars, making wry comments. Carridine gets involved again with his ex-wife and a jealous writer who his current wife. A boxing match is scheduled between the artist and jealous celebrity husband.

Having been injured by a brawl with the husband's goons, the injury has implications for the fighting match. Young Hemingway is portrayed as an eternal drunk yet friend of Carridine. Hemingway is given a string of so-called profound lines that usually don't make much sense.

note: Kieth Carridine would make a resonable facimile of Fred Astaire someday as the resemblance is close. He would have to dance, of course and that would be a problem.

American film critic, Roger Ebert, in his review stated that The Moderns is:

"sort of a source study for the Paris of Ernest Hemingway in the 1920s; it's a movie about the raw material he shaped into The Sun Also Rises and A Moveable Feast, and it also includes raw material for books by Gertrude Stein, Malcolm Cowley and Clifford Irving."

By Rita Kempley
Washington Post Staff Writer
April 30, 1988
"The Moderns" is a languid, liars' film, rich with red lipstick and faux Cézanne. Everything is ersatz, even the surrealism in Alan Rudolph's 10th movie, a lingering sendup of cafe' society in the 1920s, of Americans in Paris, of hot air strong as cognac fumes."


See it for yourself, it could be fascinating, or at least interesting.

Cast
Genevieve Bujold (veteran actress, best known in Obscession)
Geraldine Chaplin
Keith Carradine (the artist)
Linda Fiorentino
John Lone
Michael Rudder
Wallace Shaw

Crew
Director: Alan Rudolph
Screenplay: Alan Randolph
Screenplay: Jon Bradshaw

Composer: Mark Isham
Cinematographer: Toyomichi Kurita
Costume Designer: Renee April
Production Designer: Steven Legler

Editor: Debra T. Smith
Editor: Scott Brock
Set Decorator : Jean Baptiste Tard

Associate Producer: Stuart M. Besser
Co-Producer : David Blocker
Producer: David Blocker
Executive Producer: Shep Gordon
Co-Producer : Carolyn Pfeiffer
Producer: Carolyn Pfeiffer
monsieur rick
The Moderns Quotes
Discussion Forum
Discuss The Moderns on our Movie forum!
News & Features