Mortal Kombat
(1995)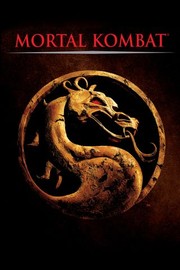 TOMATOMETER
AUDIENCE SCORE
Critic Consensus: Despite an effective otherwordly atmosphere and appropriately cheesy visuals, Mortal Kombat suffers from its poorly constructed plot, laughable dialogue, and subpar acting.
Mortal Kombat Trailers & Photos
Movie Info
Three reluctant fighters are drafted for an intergalactic martial-arts tournament that will determine the fate of the human race in this special-effects-driven adventure. Inspired by the popular and notoriously bloody video game, Mortal Kombat provides a semblance of a plot as an excuse for rampant mayhem, with the evil alien forces challenging humanity to a kung fu battle to decide the Earth's fate. Following the failure of several previous human defenders, mankind's last chance lies with egotistical action film star Johnny Cage (Linden Ashby), tough but beautiful special agent Sonya Blade (Bridgette Wilson), and vengeance-minded hero Liu Kang (Robin Shou). Under the guidance of inspirational sorcerer Lord Rayden (Christopher Lambert), this unlikely trio faces off against a series of terrifying alien adversaries. As in the video game, the martial arts battles are the true point, with standard fighting combining with magical touches supplied by computer-generated effects. The dramatic content often resembles a Saturday morning cartoon, but Jonathan Scott Carlson's appropriately dank production design and the visually spectacular battle sequences made the film a hit amongst younger fantasy-action fans, spawning a sequel and a TV show. ~ Judd Blaise, Rovi
more
New Line Home Entertainment
Cast
News & Interviews for Mortal Kombat
Critic Reviews for Mortal Kombat
Audience Reviews for Mortal Kombat
½
I've played 4 MK games, MKII, MKIII, MK Deadly Alliance, and MKI, and though I don't think the games are incredibly good like everyone else says, I will say, it was good for a movie idea. Aaaaaannnnddddd...... The movie was just okay. The acting is cheesily entertaining, and some of the action scenes are good. The only nitpicks I have for the film is that, while some of the effects look really good like Goro, Scorpions eyes and skull face, and the soul stealing thing that Shang Tsung does, most of the other effects look really bad or look really dated, like Reptiles CG form, the spear that comes out of Scorpions hand, or the electricity effects on Raiden. Another Nitpick is that a lot of the action scenes go on a little too long, like 5 minutes too long. Most fighting movies have fights up to about 4 to 5 minutes, most of the fights in this movie, go on for about 9 minutes to 11, and it gets really boring after a while. But its a decent movie overall and its entertaining to watch with friends, even if it is just to make fun of it.
Michael Edwards
Super Reviewer
½
I just get the feeling that this movie was completely rushed. It seemed cool as a little kid, but looking back now it just seems all too cheesy.
Mortal Kombat Quotes
Shang Tsung: One last chance, Sonya. Fight me in Mortal Kombat.
Sonya Blade: Go to hell.
Shang Tsung: Take her away, the emperor will be overjoyed.
Sonya Blade: My friends will come.
Johnny Cage: They're already here.
Kano: You see, he freezes this guy, alright & he explodes. I could see his guts & everything. Almost lost my lunch.
Chan: I knew you come.
Liu Kang: Chan.
Chan: One day, we will be reunited. Until then, my spirit will always be with you.
Princess Kitana: To win your next match, use the element which brings life.
Liu Kang: What?
Discussion Forum
Discuss Mortal Kombat on our Movie forum!
News & Features