Mother and Son
(1998)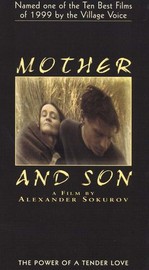 Tickets & Showtimes
Mother and Son Trailers & Photos
Movie Info
A devoted son tenderly attends to his dying mother amidst the splendor of a beautiful landscape. A lyrical, slow-paced and bittersweet film, it is filmed in the romantic style of a Caspar David Friedrich painting.
more
News & Interviews for Mother and Son
Critic Reviews for Mother and Son
Audience Reviews for Mother and Son
½
Very beautiful film, slow, meditative and poetic. The cinematography is very inspired and allows to see the spatiotemporal element as an abstraction. The film can be taking place nowhere and everywhere or it can even represent an inner state of emotions. The truth is that there are a couple of shots which are overlong for no aparent reason (except maybe to over-emphasise the conteplative side of the images) and this pushes the rhythm of the film beyond the limits it can take. As a result you can find many times yourself against an image/shot that has exhausted its meaning (which is minimal anyway and easy to grasp) and then not be able to focus or 'meditate' anymore on it. One can only take a few times the same scene of a fragmented dialogue that ends with the mother sleeping! Nevertheless, its atmopshere, mood and dreamlike sensibility stays with you long after the film has ended.
½
[center][font=Times New Roman][size=4][color=white][img]http://www.cinephilia.gr/auteur/sokurov10.jpg[/img][/color][/size][/font][/center]

[font=Times New Roman][size=4][color=white]Summary (from IMDB): A slow and poignant story of love and patience told via a dying mother nursed by her devoted son. The simple narrative is a thread woven among the deeply spiritual images of the countryside and cottage.[/color][/size][/font]

[font=Times New Roman][size=4][color=white]I've been avoiding writing anything on this film, but I can avoid it no longer. Basically, this is barely even a movie and I'm finding it hard to really 'review' it. It was more like a moving painting. Many of the beautiful shots stay still, and the slow movements of the grass or tree branches or characters made for a surreal effect. Although the characters felt detached to me in the first half of the film, after the son goes on his 'spiritual' journey, I really felt his character to be much more relatable as weird as that seems, considering he has basically no dialogue. Anyway, this film will probably go up in rating with a second viewing. It's nearly everything I look for in film, but in such a condensed, confusing way. You really have to see this to know what I'm talking about.[/color][/size][/font]

[center][img]http://www.moviemartyr.com/images/1997motherandson02.gif[/img][/center]
Chris Weseloh
Discussion Forum
Discuss Mother and Son on our Movie forum!
News & Features