My Dog Skip
(2000)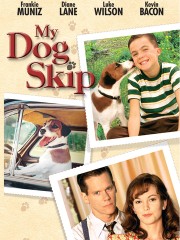 TOMATOMETER
AUDIENCE SCORE
Critic Consensus: Critics say My Dog Skip is cute, wholesome entertainment for the family. It's especially designed to appeal to your sentiment, but you might find yourself choking up just the same.
My Dog Skip Trailers & Photos
Movie Info
The year is 1942. As the Allies unite overseas to keep the world safe for democracy, there are voices at home that are barely heard. One of them belongs to Willie Morris, a shy and gawky eight-year-old whose childhood is even more quiet and isolated than his home town of Yazoo, Mississippi. An only child, ignored at school and uncomfortable with girls, Willie looks up to and confides in next-door neighbor Dink Jenkins, the town's star athlete, who's preparing to ship out in the service of Uncle Sam. Willie's father, Jack Morris, a stern but good-hearted veteran who lost his leg in the Spanish Civil War, is chiefly responsible for Willie's overprotective upbringing. Pushing in the other direction is his mother, Ellen Morris, a capable woman who knows that what Willie needs most is some freedom and a friend. Willie's ninth birthday gives her an opportunity to offer him both, in the form of a Jack Russell terrier puppy that the delighted Willie names Skip. Skip's outgoing personality helps Willie to build a friendship with Rivers Applewhite, the prettiest girl in school. Skip then further serves as matchmaker for Willie and Rivers at the movie theater, and lends a paw after Willie is challenged by Big Boy Wilkinson, Henjie Henick and Spit McGee to prove his worth in a football game. With Skip's canine help, Willie starts becoming "one of the boys." Then unexpectedly, Dink returns to Yazoo. But the dark truth soon emerges: Dink, when confronted by the realities of war, went AWOL. In trying to reconcile his hero worship of the Dink he once knew with his disappointment in the disgraced soldier, Willie begins to contend with the complexities of war and human conduct. He reaches a new perspective on these matters through his father's eyes and his own. Dink fails to show up at Willie's first baseball game, and the disappointed Willie takes it out on Skip, who runs away. The dog's disappearance and subsequent recovery teach Willie the strength of forgiveness, and give Dink a chance to embrace the power of redemption. Ultimately, it is a dog's love that teaches Willie Morris lifelong lessons of the human spirit.
more
Cast
News & Interviews for My Dog Skip
Critic Reviews for My Dog Skip
Audience Reviews for My Dog Skip
Cute, but no recommendable movie.
½
This true story has been re-created for one reason only, to touch the hearts of all ages and to feel sympathy for a boy and his dog as he faces the challenges that every boy his age faces. This film is brilliantly acted, well casted, good-hearted, family-friendly, funny, and will have you in tears by the time the credits role. This film touched me in ways that many movies have been incapable of touching me in. There may be a few scenes that seem a little undeveloped and rushed, but that is not enough to stop this film from being what it is: amazing! I feel some charcters (particularly the bullies) are a little too quirky for such a heart-felt story, but this film knows what it is trying to accomplish, and does it with ease. It will make you think twice about life, and just how precious every living thing in life truly is. Fantastic Film!
My Dog Skip Quotes
Willie Morris: He's only the best ballplayer anywhere around here. Ever.
Sammy: Well, you haven't seen Waldo Grace.
Willie Morris: Is he a colored boy?
Sammy: Yep, and the best in the whole world.
Jack Morris: You know I.C.? Colored fellow at the service station?
Ellen Morris: Sure.
Jack Morris: His son came back from Europe today.
Ellen Morris: Wonderful.
Jack Morris: In a box.
Willie Morris: (writing a letter to Dink) How long does it take mail to get from here to Europe?
Ellen Morris: Where in Europe?
Willie Morris: Where Dink is, Foxhole in the south of France.
Skip: (Barks. Willie turns to Skip)
Willie Morris: Are you for Roosevelt, boy?
Skip: (Barks)
Willie Morris: What do you think about Hitler?
Willie Morris: (Growls, and Skip growls ever fiercer)
Willie Morris: (Referring to the leg that his father lost in combat) Does it ever itch and hurt, like it's still there?
Jack Morris: Yes, it hurts.
Willie Morris: But they gave you a medal for it, didn't they?
Jack Morris: I'd rather have a leg.
Discussion Forum
Discuss My Dog Skip on our Movie forum!
News & Features