Nicky's Family
(2013)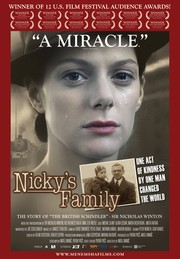 Nicky's Family Trailers & Photos
Movie Info
NICKY'S FAMILY is a gripping documentary that tells the mostly unknown story of Sir Nicholas Winton, a young Englishman who organized the rescue of 669 Jewish Czech and Slovak children just before the outbreak of World War II. As a result of his heroic efforts, today there are over 6,000 descendants who live all over the World. (c) Menemsha
more
Cast
News & Interviews for Nicky's Family
Critic Reviews for Nicky's Family
Audience Reviews for Nicky's Family
FIVE STAR REVIEW OF NICKLY'S FAMILY
So much has been written about "Nicky's Family," we could not wait to watch it. This outstanding documentary does not disappoint! The story is engaging. The testimonials which comprise so much of the film are heartfelt. And the background of how this remarkable man's story came to light fifty years after his amazing heroism was revealed is truly a miracle!
All the praise heaped on Sir Nicholas Winton and this film is so well deserved. I urge you to see it and recommend it to your friends. Bravo!
NICKY'S FAMILY is a magnificent documentary that beautifully details the actions and determination of a single, compassionate human being, a stockbroker untrained in the ways of diplomacy and governmental affairs and what he did to save the lives of 600+ Jewish children in Prague, Czechoslovakia just prior to the official outbreak of WW II. It excellently portrays the profound pathos of the parents while mentioning the indifference of the governments of the world. It ends on a very uplifting note. The acting is superb as is the use of historical sources. It is a movie that should be shown widely in the USA and throughout the world but will not be because of the subject matter, there is no actor or director sufficiently well-known to the general public associated with it and the lack of publicity. My wife and i found it riveting. NICKY'S FAMILY is one of the finest documentaries ever made. The consensus of the people leaving the theater was uniform: NICKY'S FAMILY was outstanding. It should be rated ten (five is insufficient) ripe tomatoes. January 22, 2013
Sheldon F. Gottlieb
Sheldon Gottlieb
Discussion Forum
Discuss Nicky's Family on our Movie forum!
News & Features