Night Moves
(2014)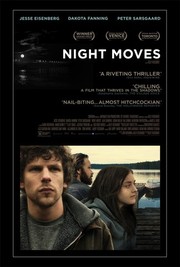 TOMATOMETER
AUDIENCE SCORE
Critic Consensus: A uniquely character-driven thriller with a finely composed cast and some outstanding direction from Kelly Reichardt, Night Moves bolsters its thought-provoking themes with compelling drama.
Night Moves Trailers & Photos
Movie Info
NIGHT MOVES, the fifth feature film from acclaimed filmmaker Kelly Reichardt, is the story of three radical environmentalists coming together to execute the most intense protest of their lives: the explosion of a hydroelectric dam-the very source and symbol of the energy-sucking, resource-devouring industrial culture they despise. Harmon is a former Marine, radicalized by tours of duty overseas. His life in the military is behind him, but at heart he remains the same reckless alpha male he always was, eager for adventure, excited by the prospect of mayhem and destruction. Dena is a high society dropout, sickened by the consumer economy into which she was born. She's moved west and cut ties with her family, edging ever deeper into radical politics. And Josh, their leader, is a self-made militant, devoted to the protection of the Earth by any means necessary. A son of the middle class who works on an organic farm, he's an intensely private person by nature and may have the deepest convictions of them all. NIGHT MOVES is a tale of suspense and a meditation on the consequences of political extremism. When do legitimate convictions truly demand illegal behaviors? What happens to a person's idealism when they find their back against the wall?(c) Cinedigm
more
Watch it now
Cast
News & Interviews for Night Moves
Critic Reviews for Night Moves
Audience Reviews for Night Moves
From Jesse Eisenberg at his best, to Dakota Fanning proving she is a worthy actress, you would think that a film like "Night Moves" would have much more to offer than just that, but that is really all I got out of this film in terms of enjoyment. The cinematography is great and the director did an amazing job with the cast, but the story was just not interesting or exciting enough to justify these elements which ended up grabbing my interest and losing it in a matter of minutes periodically throughout this film. In no way is this a bad film, in fact, I can see how some people would call it a masterpiece, but it is a very slow moving picture with little else to offer than technical aspects and great performances. "Night Moves" had a screenplay that did not take any risks and that bothered me a lot. Overall, it is a very well-constructed thriller that I probably will never watch again.
In her own low key way, Kelly Reichardt continues to move away from character driven movies to more plot driven ones with her latest film "Night Moves." While not entirely successful, she does make a couple of good points about the trouble that saboteurs and terrorists have in trying to get their points across to the general public with their violent acts. On a much more personal level than the plot to bomb a dam in Oregon, there is the trouble that Josh(Jesse Eisenberg) has in communicating his feelings toward Dena(Dakota Fanning), his fellow conspirator, along with Harmon(Peter Sarsgaard), an unreliable veteran, known. In any case, Eisenberg has no trouble conveying his character's emotions without that much dialogue.

But that same low key approach can also work against the movie which does not so much end, as just sort of runs out of gas eventually. Another example would be a key scene that while at first might seem disposable is actually a flashback to the first time Josh meets Dena. It is at a screening of an environmental film. During the Q & A, Dena asks the filmmaker what she can do. It is Josh, scowling in the corner before this, who does have an answer for her.
Discussion Forum
Discuss Night Moves on our Movie forum!
News & Features