Nightmare Man
(2006)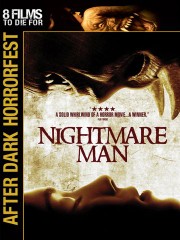 Nightmare Man Trailers & Photos
Movie Info
A murderous figure in a demonic mask stalks a woman from her dreams before materializing in the real world to do some bloody damage in director Rolfe Kanefsky's nocturnal tale of night terror. Unsuccessful despite multiple attempts to conceive, Ellen (Blythe Metz) and her husband, Bill (Luciano Szafir), order a mask said to represent the God of Fertility. Unfortunately, their hope for a child is soon snuffed out when a demonic figure sporting the very same mask begins to pursue Ellen in her dreams. Increasingly disturbed by his wife's hysterical paranoia, Bill secures a room for his troubled wife at a nearby mental health facility. When Ellen and Bill's car breaks down in the woods en route to the hospital and the menacing figure from Ellen's nightmares emerges from the darkened trees, a retreat to a nearby cabin where Mia (Tiffany Shepis) is hosting a party with a collection of close friends sets the stage for a blood-soaked murder rampage that may or may not be the doing of a supernaturally charged killer.
more
| | |
| --- | --- |
| Rating: | R (for horror violence, gore, some sexuality/nudity and language) |
| Genre: | Horror |
| Directed By: | Rolfe Kanefsky |
| Written By: | Rolfe Kanefsky |
| In Theaters: | Aug 4, 2006 Wide |
| On DVD: | Mar 18, 2008 |
| Runtime: | |
Cast
News & Interviews for Nightmare Man
Critic Reviews for Nightmare Man
Audience Reviews for Nightmare Man
Bruce Bruce
Super Reviewer
½
Low low low budget horror. Nothing original, but not bad all things considered. Knows its audience pretty well. Takes a somewhat surprising turn into Sam Raimi Land, albeit without his sense of kineticism.
½
"What did he do to you??"
"The same thing he's going to do to you if you don't leave very soon!"
"No - the police and your husband are on their way, it's just safer to stay right here."
"You're wrong!"
"Look, I'm actually getting a little sick and tired of all your negativity!"

Surprisingly good little horror cheapie that offers a few genuine jolts and surprises, and then turns all hell loose with echoes of Evil Dead during the final 20 minutes. There is a big, and I mean BIG, drawback that holds its rating down - this thing is the DARKEST film I've ever seen. As in, many times the camera will point somewhere...and you can't see anything! And good luck following the chases and struggles. As a cheapie, pretty clear they decided to save on lights as everything appears to be lit naturally, which wouldn't be a problem if the whole thing didn't take place AT NIGHT. I didn't check the credits but I'm assuming they didn't need to hire any grips, maybe there's a "lightswitch flicking guy." The only film that could get any darker is the inevitable biopic of the Chilean miners shot from their POV.

Much of the acting is pretty bad, but in a good way for this kind of movie. The characters mostly take intelligent actions when aware of danger, except for one laughable bit when Jack assures a man on the phone they won't leave a strange, raving woman alone, then immediately clears the room leaving her alone in the next scene! Standing head & shoulders above the rest of the cast is total pro Tiffany Shepis who effortlessly steals the spotlight (ehh, bad choice of words in conjunction with this film) with her no-nonsense attitude & sexy behavior. Within minutes of meeting her, she's stripped down to her underwear and pulls a giant crossbow out of the closet to investigate sounds heard outdoors. If the film could have kept up this level of inspired awesomeness, they would have a mini-classic on their hands. As such, it's about 20 times better than I expected, I just wish I could've seen more of it.
Doctor Strangeblog
Super Reviewer
Discussion Forum
Discuss Nightmare Man on our Movie forum!
News & Features