Ningen no joken I (The Human Condition I) (No Greater Love)
(1959)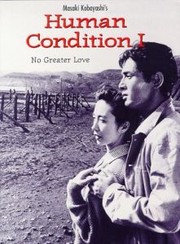 Ningen no joken I (The Human Condition I) (No Greater Love) Trailers & Photos
Movie Info
Originally titled Ningen No Joken, No Greater Love is the first of Japanese filmmaker Masaki Kobayashi's Human Condition trilogy. Drawing from his own experiences, Kobayashi weaves the tale of a Japanese pacifist, trying to get by as best he can during World War II. Tatsuya Nakadai plays the leading role of a mine supervisor, whose kindly treatment of POW laborers incurs the wrath of his superiors. As the war in the Pacific rages on, Japan begins suffering heavy losses and military humiliations, yet still Nakadai adheres to his principles. Ultimately overwhelmed by events, Nakadai is horribly mistreated by the powers-that-be, then ordered to don a uniform and fight for his country. Originally released at 200 minutes, No Greater Love was followed in 1961 by the first of two sequels, Road to Eternity (see entry 23819) ~ Hal Erickson, Rovi
more
Cast
News & Interviews for Ningen no joken I (The Human Condition I) (No Greater Love)
Critic Reviews for Ningen no joken I (The Human Condition I) (No Greater Love)
Audience Reviews for Ningen no joken I (The Human Condition I) (No Greater Love)
a 10 hour film made in six parts and released as three separate films from 1959-1961, the human condition is as ambitious as the title suggests, and it succeeds on every level. this is one of those rare times that the cliche term "sprawling epic" actually applies as this film takes it place alongside "all quiet on the western front" as the greatest anti-war films in cinematic history. you really see the span of the human condition as kaji, played masterfully by tatsuya nakadai goes from the corporate office, to managing a labor camp, to being a common soldier, to marching across nations, to being a POW in a russian camp at the end of the war. the film never gets dull. seen as somewhat anti-japanese at the time of its release, it is now seen as a massive apology letter from japan to the rest of us of the guilt many of them feel over their involvement with germany in WW2. the film excels in cinematography and locations, the acting was amazing from each of the many performers that show up at different stages in the film, and kobayashi's directing should be seen as one of the greatest directorial successes of all time. so much more could be said, but it just needs to be seen to be understood.
This film by Masaki Kobayashi is a masterpiece!! You'll get to see the worst and best of people during times of war in a Manchurian Prison Camp. Kaji, played by Nakadai, is trying to prove that if you treat prisoners well and take good care of them, they will work for you. The constant dilemma's he's faced with, and the painful paradox of a human approach when you're faced with people who are imprisoned against their will and have to work and live behind a wired fence is very tangible.
He not only has to win the prisoners trust, he also has to prove himself to his superiors and 'colleagues', and the latter are committed to giving him a hard time.

I can't wait to see the other two parts!
Ningen no joken I (The Human Condition I) (No Greater Love) Quotes
Discussion Forum
Discuss Ningen no joken I (The Human Condition I) (No Greater Love) on our Movie forum!
News & Features