Office Space
(1999)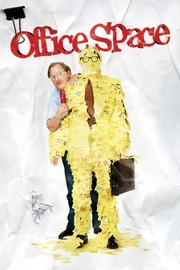 Office Space Trailers & Photos
Movie Info
Peter Gibbons (Ron Livingston) is a computer programmer working for Initech in Houston. Every day, he and his friends Samir (Ajay Naidu) and Michael Bolton (David Herman as not THAT Michael Bolton), suffer endless indignities and humiliations in their soulless workspace from their soulless boss, Bill Lumbergh (Gary Cole). For Peter, stuck in his cookie-cutter apartment with paper-thin walls and IKEA furniture, every day is worse than the one before it -- so every day is the worst of his life. To cap it off, Initech has hired a pair of "efficiency experts" to downsize the company. One Friday night, Peter's soon to be ex-girlfriend Anne (Alexandra Wentworth) forces him to go to an occupational hypnotherapist to relieve work stress. While Peter is under hypnosis, the therapist keels over and dies. As he never snaps out of his hypnotic state, Peter has a new outlook on life. If something annoys him, he just ignores it or walks away from it. He is completely relaxed and enjoying life for the first time in a long time. On Monday, Peter skips work and sleeps in. He gets up for lunch and drives down to a restaurant next to his office and asks the waitress he's had a crush on, Joanna (Jennifer Aniston), on a date. When Peter stops into the office to pick up his organizer, he's called in to talk to the efficiency experts. Relaxed and friendly, Peter charms them as he describes everything wrong with the office, including his boss. Even as Peter now appears at work only as the mood strikes him, the experts decide he's management material and give him a promotion even as they lay off the hardworking Samir and Michael. Peter then convinces his friends to exact revenge on Initech based upon an idea from Superman III. Not everything works out quite as planned. Office Space originated from writer/director Mike Judge's first animated short of the same name, created in 1991. The short was about Milton (reproduced in the film by Stephen Root), a damaged office drone whose complaints and threats about his sufferings go unheeded. ~ Ron Wells, Rovi
more
Cast
News & Interviews for Office Space
Critic Reviews for Office Space
Audience Reviews for Office Space
½
Stick to Dilbert. OK the "Flair" stuff was funny.
½
Utterly brilliant satirical comedy based around your typical everyday office job or more specifically IT office job. After seeing this again after a very long time the first thing that sprung to mind was I wonder if Ricky Gervais got the idea for his satirical series from this?.

You can certainly see similarities, the main one being the office boss 'Lumbergh' who although played excellently by Cole with high levels of smarm and slime is in a way close to 'Michael Scott' or 'David Brent' albeit a slightly more clever version. This film also reminds me of 'Since You've Been Gone' which was another excellent comedy with mainly unknowns from the 'Lookingglass' theatrical company based in Chicago, both of these films seem to be in the same kind of satirical style.

The film is chock full of so many fantastic performances you can see why this became a cult hit. Root as 'Milton' is absolutely hilarious as the mumbling goggle eyed office worker who actually comes across as a chubby live action version of 'Beaker' from the Muppets. Livingstone is the disgruntled worker who kinda cracks and just does what we all would love to do if we had the balls, Herman is great as he tries not to lose it whenever people comment on his name and John C. McGinley has one of his best roles here as a slimy corporate axeman consultant weeding out the deadwood from the company. Everyone in this film does well including the small roles like 'Drew' the office worker who only pops up to make some crude visual jokes but its still so good.

The scene where McGinley and his partner chat with Herman over his name being Michael Bolton and whether he is related to the famous Bolton or if he likes his songs is simply genius writing and acting, pure hilarity.

If your an office worker you will be able to relate to this, on the other hand one reason why this is so good is because many can relate to this whether you work in an office or not. All the characters within the film have been brilliantly realised and crafted after the type of folk you probably really do come across in reality or this field of work. I'm sure everyone can see someone they know or have known during their working life in this film.
Office Space Quotes
Bill Lumbergh: Hello Peter what's happening. I'm gonna need you to go ahead and come in tomorrow. So if you could be here at around....9 that'd be great.
Milton: I believe you have my stapler.
Michael Bolton: PC Load Letter? What the fuck does that mean?
Samir: Why does it say paper jam when there is no paper jam? I swear to God, one of these days I am just kicking this this piece of shit out the window!
Michael Bolton: You and me both, man.
Discussion Forum
Discuss Office Space on our Movie forum!
News & Features