Otto; or Up with Dead People
(2008)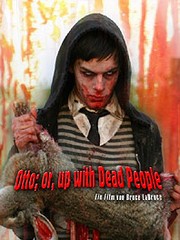 Otto; or Up with Dead People Trailers & Photos
Movie Info
An gay teenage zombie falls in with a pretentious experimental filmmaker who casts him in a politically themed porno while documenting his experiences as a walking corpse in this existential gut-muncher from Canadian provocateur Bruce LaBruce. Adorable twink Otto (Jey Crisfar) was wandering the streets of Berlin and feasting on road-kill when avant-garde filmmaker Medea Yarn recruited him to appear in her latest film, a porno-political-zombie flick set during the gay zombie uprising. Gradually, over the course of shooting, Medea's interest in Otto grows and she decides to make a documentary about him. Flattered by the attention lavished upon him by both the filmmaker and his smitten fellow cast-members, Otto suddenly finds his life -- or death -- gaining a newfound sense of purpose.
more
Watch it now
Cast
News & Interviews for Otto; or Up with Dead People
Critic Reviews for Otto; or Up with Dead People
Audience Reviews for Otto; or Up with Dead People
More than anything else, I think this film spoofs pretentious film directors who only like to make artsy-fartsy documentaries where they deal with more or less deep subject matters (being a zombie) through what they consider to be really thought-provoking means (gay porn).

Don't despair during the first half an hour, the film becomes much clearer towards the end.
½
I actually thought this could have been a really, really good film if it was minus a few bits and pieces. I loved all the black and white shots, then all the saturated colour, the voice overs, and Jey Crisfar makes an appealing zombie (what this says about me, I don't want to go too far into. LOL). I was fine with the gay stuff, but I really thought the soft core porn aspect to it let the whole film down. And the gore, well, I the blood I could handle, the stringing out bits of guts could have done without. Minus those few elements, I thought this could have been quite an arty, good little film similar in tone to Nadja (but obviously about a zombie rather than a vampire!).
Discussion Forum
Discuss Otto; or Up with Dead People on our Movie forum!
News & Features