Percy Jackson: Sea of Monsters
(2013)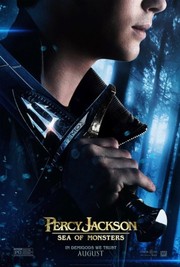 TOMATOMETER
AUDIENCE SCORE
Critic Consensus: It's pretty and packed with action; unfortunately, Percy Jackson: Sea of Monsters is also waterlogged with characters and plots that can't help but feel derivative.
Tickets & Showtimes
Percy Jackson: Sea of Monsters Trailers & Photos
Movie Info
Percy Jackson, the son of Poseidon, continues his epic journey to fulfill his destiny, as he teams with his demigod friends to retrieve the Golden Fleece, which has the power to save their home and training ground, Camp Half-Blood.
more
Cast
News & Interviews for Percy Jackson: Sea of Monsters
Critic Reviews for Percy Jackson: Sea of Monsters
Audience Reviews for Percy Jackson: Sea of Monsters
Daniel Mumby
Super Reviewer
I didn't expect much when the first "Percy Jackson" movie came out and was pleasantly surprised. I really enjoyed it and thought it was much better than other young adult fantasy movies. Did I think it had enough juice for a franchise? Probably not, but for a one off film, it was good. So with the sequel my expectations were lower, and that's a good thing, because this falls in the "not nearly as good as the first movie" category of sequels. Here, Percy(Logan Lerman) and his demi-god friends, and Cyclops half brother, have to recover the golden fleece and save their camp. This feels like a tv episode where it's like "hey guys, let's go on an adventure", but doesn't move the story along at all. All the characters are pretty stagnant, and the Cyclops brother is lame and poorly acted. Last year Lerman was the star of one of my favorite movies of the year, "Perks of a Wallflower". He showed he can be a terrific actor, but this feels like a step back for him. Also, for being 2013, the effects weren't really up to snuff with other similar movies. Now, having said all that, I'm not the target audience. This is for kids/teens, and I can see them enjoying it. Will(my 7 year old nephew) came in with about 30 minutes left and seemed to enjoy it. It leaves it open for a third one, which I don't think it needs, but hopefully it will be better and give this franchise the life it needs to sustain.
In Demi-gods we trust.

Good Movie! Percy Jackson: Sea of Monsters only settles for being an "okay" movie. There are constant deviations from the novel, only decent scripting, acting, visual effects, good music, and mixed acting. However, it is not a waste, especially for fans of Percy Jackson. Now that many characters and plot points have been set into place after being shattered by the first film, the makers of this film have paved a promising path for another film that may be even better than the first two.

In this retelling of Rick Riordans book, "The Sea of Monsters", Percy Jackson, accompanied by his friends Annabeth Chase, Clarisse La Rue and Tyson, his half brother, goes on a journey to the Sea of Monsters to retrieve the Golden Fleece and save Camp Half-Blood.
Percy Jackson: Sea of Monsters Quotes
Percy Jackson: I never called him brother. All I ever wanted was a brother, but I was too caught up in myself.
Percy Jackson: What if I destroy Olympus by not being good enough to save it?
Clarisse: Don't worry about always coming in second, Jackson.
Percy Jackson: You know everything they say about you is wrong, Clarisse. You actually do have a sense of humor.
Kronos: Percy Jackson! Your destiny was written long ago.
Percy Jackson: I write my own destiny!
Discussion Forum
Discuss Percy Jackson: Sea of Monsters on our Movie forum!
News & Features