Le Petit Soldat (The Little Soldier)
(2013)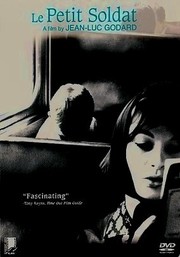 Tickets & Showtimes
Movie Info
Le Petit Soldat (The Little Soldier), writer/director Jean-Luc Godard's second feature film, was made in 1960 but immediately banned in France due to its sensitive political content and did not premiere until 1963. Michel Subor (Beau Travail) stars as Bruno Forestier, an army deserter caught in the middle of a covert war between the French government and the Algerian Liberation Front in Geneva. With both sides resorting to any means to achieve their clandestine ends, Bruno must decide what he is willing to do to escape with Veronica (Anna Karina, star of Band of Outsiders and A Woman Is A Woman, in her enchanting debut) and lead a free life. Arguably an espionage riff on the filmmaker's own debut feature, Breathless, this is the film where Godard penned his signature statement: "Cinema is truth 24 frames a second." Also starring László Szabó
more
Cast
News & Interviews for Le Petit Soldat (The Little Soldier)
Critic Reviews for Le Petit Soldat (The Little Soldier)
Audience Reviews for Le Petit Soldat (The Little Soldier)
El Hombre Invisible
Super Reviewer
The title is misleading -- there are no true soldiers in this film, and no uniforms. This is a movie about urban terrorism, plotted by young men in suits and ties.

The plot is not especially easy to follow, but the setting is the Algerian War. A French deserter lives in Geneva, and is pressured to commit an assassination. When he resists, the heat comes down on him from both sides of the conflict. Along the way, he becomes smitten with a girl portrayed by Anna Karina, and who could blame him?

What's most impressive about "Le Petit Soldat" is not its story, but how much director Jean-Luc Godard achieved on such a low budget. Almost all the scenes appear to have been shot silently, with sound dubbed in later. Most of the camera work is handheld, and the narration carries a heavy burden of explaining the background details.

Typically for Godard, the script includes an obsessive number of allusions to personal influences like Paul Klee and Carl Dreyer. There's also an extended monologue where the lead actor suddenly turns and begins speaking to the camera. A startling moment, created with some rather primitive tools.

"Le Petit Soldat" was Godard's second film after the more celebrated "A Bout de Souffle," but was initially banned due to a controversial torture sequence (laughably tame, by today's standards) and some unflattering comments about French politics.
½
[font=Century Gothic]In "Le Petit Soldat," Bruno(Michel Subor) is an undercover antiterrorist agent in Geneva who works for the French Information Bureau and is tasked with an assassination. In the meantime, he is asked to photograph Veronica(Anna Karina) for some odd reason.[/font]
[font=Century Gothic][/font]
[font=Century Gothic]"Le Petit Soldat" is a political allegory about terrorism and graphically depicted torture that comes tantalizingly close to succeeding despite its very odd setting of Switzerland, a general lack of coherence and its polemical tone.(One shot features a woman reading from the works of Mao.) But then this would not be a Jean-Luc Godard film if he did not get distracted somewhere along the way which explains the photography session that is at least photographed nicely.[/font]
Discussion Forum
Discuss Le Petit Soldat (The Little Soldier) on our Movie forum!
News & Features