Peyton Place
(1957)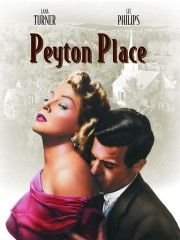 Peyton Place Trailers & Photos
Movie Info
Grace Metalious' once-notorious bestseller Peyton Place is given a lavish -- and necessarily toned-down -- film treatment in this deluxe 20th Century-Fox production. Set during WWII, the film concentrates on several denizens of the outwardly respectable New England community of Peyton Place. Top-billed Lana Turner plays shopkeeper Constance McKenzie, who tries to make up for a past indiscretion -- which resulted in her illegitimate daughter Allison (Diane Varsi) -- by adopting a chaste, prudish attitude towards all things sexual. In spite of herself, Constance can't help but be attracted to handsome new teacher Michael Rossi (Lee Philips). Meanwhile, the restless Allison, who'd like to be as footloose and fancy-free as the town's "fast girl" Betty Anderson (Terry Moore), falls sincerely in love with mixed-up mama's boy Norman Page (Russ Tamblyn). And while all this is going on, "white trash" Selena Cross (Hope Lange) is raped by her stepfather, drunken school caretaker Lucas Cross (Arthur Kennedy). Other characters essential to the action are wealthy Rodney Harrington (Barry Coe), who must pay the price for his dalliance with Betty Anderson; Nellie Cross (Betty Field), Selena's long-suffering mother; and the town's Voice of Reason, Dr. Swain (Lloyd Nolan). This 166-minute soap opera (whittled down to 157 minutes before release) culminates in a spectacular murder trial which lays bare the deep, dark secrets of Peyton Place. Filmed on location in Camden, Maine, Peyton Place was a huge moneymaker (even those who felt that the film was but a heavily laundered shadow of the Metalious original were pleased with the professionalism of it all); it not only spawned a 1961 theatrical sequel, but also a long-running prime time TV serial. ~ Hal Erickson, Rovi
more
Cast
News & Interviews for Peyton Place
Critic Reviews for Peyton Place
Audience Reviews for Peyton Place
½
What invented the modern melodrama? What spawned generations of soap operas from "Dallas" up to and including "Desperate Housewives?" What made enough impact on popular culture that it was included in Billy Joel's "We Didn't Start The Fire",between "Princess Grace",and "Trouble in the Suez?" Why,that would be "Peyton Place",the 1957 film that was based on the scandalous novel by Grace Metalious,that was so successful that it spawned a even more scandalous 1961 sequel "Return To Peyton Place",and later on an even less scandalous toned down version of successful television series that premiered on ABC-TV in the fall of 1964 and lasted five seasons on the network ending in the summer of 1969 after an astounding 514 episodes that launched the careers of Ryan O'Neal, Mia Farrow and Barbara Parkins. The original 1957 motion picture PEYTON PLACE got a bit of a boost when its star Lana Turner was involved in the real-life scandal of her daughter's murdering Turner's gangster lover---dealt with ideas were downright unthinkable or even unheard of during the mid-1950's when this film was released:Adultery! Incest! Picturesque small town America having dark,seamy underbellies and even darker undertones that shocked audiences who went to see it! Still the film was toned down a mite from the source material,to the point that the Catholic Legion of Decency gave this film an "A". Despite of was critics and those haters and audiences who have spilt decisions against it,PEYTON PLACE went on to become one of the highest grossing films of the year...a huge runaway hit upon its release for 20th Century-Fox,given the full "Cinemascope" treatment and color and was nominated for an impressive nine Academy Awards including Best Picture(winning none but lost to David Lean's Bridge On The River Kwai which won the Oscar for Best Picture of 1957). The name remains synonymous with its sordid small-town drama. PEYTON PLACE was the only movie based on Grace Metalious that not it spawned a sequel,but also a long-running mid-1960's television series,two movie for TV movies and not to even mention a short-lived daytime serial "Return To Peyton Place".

NOTE: Only two of it stars from the original movie went on to star in both the sequel and the television series: Actors Lloyd Nolan, Hope Lange and Arthur Kennedy.
Mister Caple
Super Reviewer
½
For the most part this is a really good drama, but it was probably better as a book. You can see that the film makers were trying to push the limits of what they could do on screen at the time, and it's interesting to see how this movie deals with its controversial topics, but the movie is also pretty boring in some scenes. Plus, it's kind of long. Overall it's pretty good, but it could have been better, if they made this movie in the seventies it would have been better i think.
Discussion Forum
Discuss Peyton Place on our Movie forum!
News & Features