Phantom of the Paradise
(1974)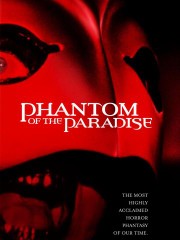 Phantom of the Paradise Trailers & Photos
Movie Info
Combining rock & roll, horror, and the classic tale of Phantom of the Opera this musical makes fun of all three. The story centers on an aspiring rocker who sells his soul to find fame and ends up horribly disfigured and living in the bowels of a popular night club.
more
Cast
News & Interviews for Phantom of the Paradise
Critic Reviews for Phantom of the Paradise
Audience Reviews for Phantom of the Paradise
Daniel Mumby
Super Reviewer
½
Combining Faust with Phantom of the Opera (and tributes/homages/references to many other films (horror and otherwise)), this is Brian De Palma's contribution to the world of rock opera musicals. It actually has quite a bit in common with a little film that came out a year later called The Rocky Horror Picture Show, although, while both films are campy cult classics, the latter is better known and has a far larger following.

This is still a fun little movie though. It is kinda weird and campy, and I'm not real big on glam rock, but I can appreciate it, as well as this film being a satirical look at a couple of things such as 70s nostalgia for the 50s, and fame and show business. It is weird and campy, but it seems, dare I say it, maybe mroe accessible than Rocky Horror. I don't think it is quite as godo or enjoyable as that one, however, this one at least shows evidence of cinematic artistry and gimmickry thank's to it being directed by De Palma, who employs, among his trademarks: tracking shots, long takes, split screen, and who knows how many other camera tricks.

Usually these sorts of things overshadow the stories of his films, but here the story seems to actually be fairly strong. Well, it is derivative, but it is a strong take on it, that is. Plus, the music could be worse. Acting wise, there is nothing remarkable, but the singing is good and the cast are nice to look at.

All in all, I'm being a bit kind here with my grade, but the film is made with lots of love, energy, and style and I rather like that De Palma did this because it seems unexpected to me. You should give it a chance.
Chris Weber
Super Reviewer
Brian De Palma is a real chameleon of a filmmaker. He can make a hard-edged, balls-to-the-wall gangster flick like Scarface; an edge-of-your-seat action film like Mission:Impossible; an all-time scarefest like Carrie; and then he can pull something like Phantom of the Paradise out of nowhere. This is most certainly a salute to cult and b-movies, operas (certainly Phantom of the Opera), musicals, comedies and horror films. It's really got everything going for it. The cast in the film is superb; Jessica Harper (who horror fans may recognize from Suspiria), Paul Williams and William Finley, all give terrific performances. Gerritt Graham is also phenomenal in his role and really made me laugh out loud several times. The film is also shot amazingly. I particularly liked the shots of the phantom running down a long hallway with his cape flowing behind him. I also dug Beef's death scene, where they somehow sped the film up and cut frames for his electrocution. I thought that was genius. The score and, of course, themusic in the movie is all just wonderful. All stemming from Paul Williams, it really is fantastic opera rock at its best. The closing credit song was a delight, as well. I guess I can't go by without mentioning how this movie is alluded to The Rocky Horror Picture Show because they both have the same kinda feel and content and both came out around the same time, but I think this movie is the superior one. On a sidenote, I have no idea how they got Rod Serling to do the opening credits, but it was a perfect touch! By and large, not everybody will like this movie, for a lot of reasons, but I thoroughly enjoyed it. Brian De Palma is really on top of his game here.
Tim Salmons
Super Reviewer
Phantom of the Paradise Quotes
Winslow/The Phantom: "All articles which have been excluded shall be deemed included." What does that mean?
Swan: That's a clause to protect you, Winslow.
Beef: You trying to tell me you didn't hear that shriek? That was something trying to get out of its premature grave, and I don't want to be here when it does.
Beef: Speed?
Philbin: Yeah.
Beef: What do you know about it? You just pass the stuff out, I take it.
Swan: This contract terminates with Swan. No more suicides, Winslow, you gave up your right to rest in peace when you signed this contract.
Discussion Forum
Discuss Phantom of the Paradise on our Movie forum!
News & Features