The Piano
(1993)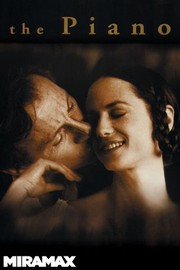 The Piano Trailers & Photos
Movie Info
Writer/director Jane Campion's third feature unearthed emotional undercurrents and churning intensity in the story of a mute woman's rebellion in the recently colonized New Zealand wilderness of Victorian times. Ada McGrath (Holly Hunter), a mute who has willed herself not to speak, and her strong-willed young daughter Flora (Anna Paquin) find themselves in the New Zealand wilderness, with Ada the imported bride of dullard land-grabber Stewart (Sam Neill). Ada immediately takes a dislike to Stewart when he refuses to carry her beloved piano home with them. But Stewart makes a deal with his overseer George Baines (Harvey Keitel) to take the piano off his hands. Attracted to Ada, Baines agrees to return the piano in exchange for a series of piano lessons that become a series of increasingly charged sexual encounters. As pent-up emotions of rage and desire swirl around all three characters, the savage wilderness begins to consume the tiny European enclave. Campion imbues her tale with an over-ripe tactility and a murky, poetic undertow that betray the characters' confined yet overpowering emotions: Ada's buried sensuality, Baines' hidden tenderness, and Stewart's suppressed anger and violence. The story unfolds like a Greek tragedy of the Outback, complete with a Greek chorus of Maori tribesmen and a blithely uncaring natural environment that envelops the characters like an additional player. Campion directs with discreet detachment, observing one character through the glances and squints of another as they peer through wooden slats, airy curtains, and the spaces between a character's fingers. She makes the film immediate and urgent by implicating the audience in characters' gazes. And she guides Hunter to a revelatory performance of silent film majesty. Relying on expressive glances and using body language to convey her soulful depths, Hunter became a modern Lillian Gish and won an Oscar for her performance, as did Paquin and Campion for her screenplay. Campion achieved something rare in contemporary cinema: a poetry of expression told in the form of an off-center melodrama. ~ Paul Brenner, Rovi
more
Cast
News & Interviews for The Piano
Critic Reviews for The Piano
Audience Reviews for The Piano
½
An intense and emotional film. The performances are excellent.
½
Astounding drama, The Piano is a near perfect picture that boasts an incredible cast of talented actors and has a terrific, well executed storyline. This film is famous for the fact that Anna Paquin who was eleven years old at the time of the film's release won an Oscar for her performance, thus becoming the second younger Oscar winner in film history. The film is a beautiful piece of cinema, in the way that it's been film, acted, directed and told. This is sublime storytelling and if you're looking for a solid piece of drama, then The Piano is worth seeing. Anna Paquin and Holly Hunter have terrific chemistry on-screen, and they are tremendous leads that really add so much to the film's powerful storytelling. Director Jane Campion crafts a brilliant picture, one that is rare in the way it tells a truly engrossing story that is elevated by the strong performances from its cast. Everything about the film is truly hypnotic, the score composed by Michael Nyman adds so much emotion to the story that you are overwhelmed by how grand the film is. This is a masterpiece in terms of pure craftsmanship and the cast just add so much to the enjoyment of the film. The Piano is a richly detailed drama is haunting, thrilling, and it keeps you invested from the first frame right to the final shot. I recommend this film to anyone that enjoys a richly told drama with a great story and top notch cast. The Piano is one the finest films in the genre, and it's a memorable picture that you won't soon forget because it's a chilling, beautiful film that is one of the finest films of 90's. To me, it's always great to see a director that is able to craft something truly grand with a few simple ideas, and that is the case with this film. Holly Hunter and Anna Paquin definitely deserved their Oscars for their roles as this is a near perfect film that has a very good story and magnetic performances that is sure to delight diehard film fans.
The Piano Quotes
Ada McGrath: The voice you hear is not my speaking voice, but my mind's voice. I have not spoken since I was six years old. No one knows why, not even me. My father says it is a dark talent, and the day I take it into my head to stop breathing will be my last. Today he married me to a man I have not yet met. Soon my daughter and I shall join him in his own country. My husband writes that my muteness does not bother him, and hark this! He says, 'God loves dumb creatures, so why not I?' Twere good he had God's patience, for silence affects everyone in the end. The strange thing is, I don't think myself silent. That is because of my piano. I shall miss it on the journey.
Ada McGrath: At night! I think of my piano in its ocean grave, and sometimes of myself floating above it. Down there everything is so still and silent that it lulls me to sleep. It is a weird lullaby and so it is; it is mine.
Ada McGrath: George has fashioned me a metal finger tip, I am quite the town freak which satisfies!
Ada McGrath: What a death! What a chance! What a surprise! My will has chosen life! Still it has had me spooked and many others besides!
Discussion Forum
Discuss The Piano on our Movie forum!
News & Features