Pusher
(2012)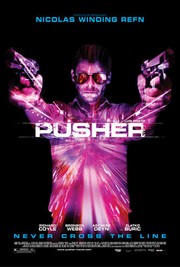 Tickets & Showtimes
Pusher Trailers & Photos
Movie Info
Based on the edgy and explosive series by visionary director Nicolas Winding Refn, Pusher stars Richard Coyle as a drug dealer who grows increasingly desperate over the course of a week after a botched deal lands him in the merciless clutches of a ruthless crime lord. The more desperate his behavior, the more isolated he becomes until there is nothing left standing between him and the bullet his debtors intend to fire his way. -- (C) Radius
more
Watch it now
Cast
News & Interviews for Pusher
Critic Reviews for Pusher
Audience Reviews for Pusher
This dark drama would be good if it wasn't just an updated translation of the original. Pusher follows the typical storyline of a drug dealer who is in a sticky situation and has to get X amount of money to a ruthless drug dealer or else death is most likely on the cards. So to sum up the plot it is really nothing new, maybe back in 1996 it held weight in that department and the remake may just be the template for some of the modern day films like this. When watching the original after seeing the remake you come to realise that Luis Prieto pretty much just re shot the original shot for shot, line for line. But what really is the worst factor with this movie and the same for the original is that the ending is too sudden and it felt like it needed a good 10-15 more minutes just so the viewer sees what happens next. I have not seen the sequels so I have no idea if they show what happens next or just reference it. Or maybe even never hint anything... which would suck. I did like Richard & Bronson 's performances and I believe Richard was better than his counterpart but I preferred Le Chiffre (Bond reference) to Bronson; and I thought Agyness was better but really the differences in performances are very minimal. But every time I think of this film I just realise it comes out with zilch originality and just takes the original and do it all again with no change. Don't expect a different ending, new scenes, unexpected twists or anything like that. The only big differences I can think of is someone that dies gets killed a different way to the original, Bronson is actually seen after the bat scene when Mads wasn't. Overall Pusher is a cool, dark & bleak look at a week in the life of a drug pusher. Containing a cool almost Drive like soundtrack (but no way near as good bar the Beat & the pulse remix), ok acting & it is a by the book, shot for shot; carbon copy remake of the original.
½
Redundant remake that improves on nothing and botches what was good about the original. The only things this version has going for it are the synth-heavy soundtrack and Richard Coyle's charismatic performance.
Pusher Quotes
Discussion Forum
Discuss Pusher on our Movie forum!
News & Features