Caos Calmo (Quiet Chaos)
(2009)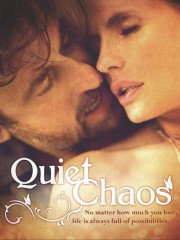 Caos Calmo (Quiet Chaos) Trailers & Photos
Movie Info
With Quiet Chaos (Caos Calmo), acclaimed Italian helmer Nanni Moretti steps away from his standard directorial role to essay the lead and co-author the script in a gentle psychological drama directed by Antonello Grimaldi. Moretti stars as Pietro, a film executive whose life takes an irreversible and devastating turn one fateful morning. During a trip to the beach with his brother, Pietro's path intersects with that of a woman, Eleonora (Isabella Ferrari), who is drowning in the ocean; horrified, Pietro rushes in to save her. He subsequently returns home only to discover that his wife, Lara, just died in a nasty falling accident; devastated to the core, this nascent widower must make the necessary psychological accommodations to adjust to life as a single parent, with sole responsibility for raising his ten-year-old daughter, Claudia (Blu Yoshimi). Almost instinctively, as a reaction to Lara's death, Pietro opts to sit and wait for his daughter to finish school each day (in a park across from the school), in lieu of abandoning her to his own priorities and commitments. This means that the fellow's colleagues in the film industry must, by necessity, come to do business with him in the park. Through it all, Pietro remains silently dumbfounded that the tragedy itself hasn't shaken him more, that the grief (the "quiet chaos" of the title) is subtly agonizing instead of grossly traumatizing and debilitating. Nevertheless, he ultimately begins to approach a full realization and acceptance of his loss, and gains an enhanced awareness of himself and others from the potentially crippling events thrust into his path. Valeria Golino (Rain Man) co-stars; Roman Polanski appears in a cameo as one of Pietro's industry colleagues. ~ Nathan Southern, Rovi
more
Watch it now
Cast
News & Interviews for Caos Calmo (Quiet Chaos)
Critic Reviews for Caos Calmo (Quiet Chaos)
Audience Reviews for Caos Calmo (Quiet Chaos)
I liked it even more than The Son's Room; it's similar in a way, but here it doesn't take so long to show the pain, and it's more original. Great, great dialogues and stupid sex scenes.
½
When a rich businessman's wife suddenly dies in an accident, his despair is so deep he is unable to maintain any aspect of his life except for the deep, loving support of his daughter. Every day, instead of going to the office, he takes the little girl to school, then spends the day sitting in the park across the street, waiting for her day to end so he can take her to gymnastics class, then home. He wishes she would come to her classroom window and look down at him. Executives from his office come to the park to talk, to conspire about a merger, one comes to offer him the CEO job. He has no interest. He is in the world of the park and his daughter and the people who pass through the park every day. And just this, no plot, no action, this is enough to make a great movie. Only Europeans have the sophistication to see the power in the smallest detail and translate it to film. In the US we are cheated from seeing pictures like this of our own by a film making system that thinks only 18 year old boys buy tickets. Because in the US we forgot long ago that film is an art, not a get rich quick scheme. These European stars can really act. They don't make Jennifer Aniston movies. Can somebody get rid of her, by the way? Put her under house arrest with no cameras?
Daniel Cooper
Discussion Forum
Discuss Caos Calmo (Quiet Chaos) on our Movie forum!
News & Features