Raiders of the Living Dead
(1986)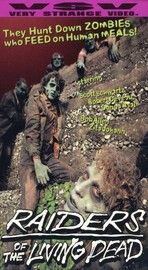 AUDIENCE SCORE
Critic Consensus: No consensus yet.
Movie Info
Newspaper reporter Morgan Randall (Robert Deveau) has been blessed (or cursed) with a number of strange events and clues which lead him to think that zombies might really exist. He and his friend Shelly (Donna Asali) tracks them down to an abandoned prison, but then is trapped there by the mad scientist who has been busily reanimating corpses there. Fortunately, two teenagers, Jonathan and Michelle (Scott Schwartz and Corri Burt), are on the same trail, and they have come equipped to deal with the worst. In its partially completed state, this film was entitled "Graveyard" and appeared on the USA Network's Up All Night series.
more
Independent International Pictures Corp.
Cast
News & Interviews for Raiders of the Living Dead
Critic Reviews for Raiders of the Living Dead
There are no critic reviews yet for Raiders of the Living Dead. Keep checking Rotten Tomatoes for updates!
Audience Reviews for Raiders of the Living Dead
some shots were too long in one place like the kid working on the player for his grandpa and the music is god aweful even for the 80's. Sound track just didn't match the mivie.
Northcarolinabengals@yahoo.com Northcarolinabengals@yahoo.com
½
Way back in the early days of low-budget horror director icon Brett Piper, he created a short film called Dying Days about a reporter who gets entangled with zombies thanks to a long, horrid curse in his family. Well, a small-time head honcho of a defunct movie studio, Sam Sherman, decides to take Brett Piper's film and "make it better" by changing up 75% of the film to involve the reporter getting attacked by zombies, only to survive and enlist the help of his new cop girlfriend, an old man, his young genius son (lol, Scotty Schwartz from The Toy, then later...porn!), his little girlfriend, and their newly developed laser gun. What started out as a quirky, fun, old school Piper film (filled with titties and gore of course) now turns into a horribly boring, painfully corny, boobie-less and gore-less snoozefest with laughable zombie action. No seriously, the zombies vs. kids laser gun is hysterical. Most importantly, the molding of two very different films here is incredibly obvious and just horribly done. Thank goodness I rented this first instead of impulse buying! I'd say if you're going to rent this turkey, stick to the Dying Days movie instead, or better yet, watch both to see the incredible differences and bastard changes done.
Discussion Forum
Discuss Raiders of the Living Dead on our Movie forum!
News & Features