Reign of Fire
(2002)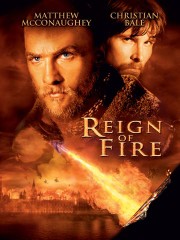 Tickets & Showtimes
Reign of Fire Trailers & Photos
Movie Info
In present-day London, twelve-year-old Quinn watches as his mother, a construction engineer inadvertently wakes an enormous fire-breathing beast from its centuries-long slumber. Twenty years later, much of the world has been scarred by the beast and its offspring. As a fire chief, Quinn is responsible for warding off the beasts and keeping a small community alive as they eke out a meager existence. Into their midst comes a hotshot American, Van Zan, who says he has a way to kill the beasts and save mankind--a way Quinn's never seen done.
more
Cast
News & Interviews for Reign of Fire
Critic Reviews for Reign of Fire
Audience Reviews for Reign of Fire
Directors Cat
Super Reviewer
½
Anyone for dragons? a scorched earth where humanity is almost extinct and small bands of survivors scrape along day by day eeking out some form of life in a desolate barren world. The only leaders left to keep the pitiful human morsels alive are 'Batman', 'King Leonidas' and a bald tattooed Texan.

And thus the premise for 'Reign of Fire' is born, like a phoenix from the flames, like the one true ring from the searing heat of Mount Doom, like...I'm going overboard aren't I?. So yeah, totally cool movie title and a wicked idea no doubt, the problem being the final execution of the entire film.

An apocalyptic 'Mad Max' type future with a pocket of human wastrels holed up in an old castle in the north of England. An American ego joins the team (love how the yanks always butt in on a war hehe even in the future!) and together they all fight dragons, only problem is we don't see much of the dragons!. Of course there is dragon action but its few and far between and even then you don't see the dragons too much.
On one hand hiding the beasts does add more mystery and suspense, I can see that notion. But on the other hand we all know what dragons look like and what they do, there's really no need to hide them in the shadows ala Ridley Scott's 'Alien'. End of the day a dragon is a dragon and to be completely honest they aren't that scary, more mythical and fun really, like unicorns.

Other issues with the film is how utterly grey and dull it all looks, so very unexciting. Sure its an apocalyptic world set up north in a sea of ash but lets try make it somewhat visually thrilling for the viewer. The characters are all rather generic and somewhat annoying also, you kinda want to see them get eaten half the time. Bale has his stupid mockney accent again and just shouts all the time, Butler's character just seems pointless and you just know he's gonna end up crispy dragon meat, but McConaughey is more intriguing as the obvious 'Captain Ahab' with muscles and tattoo's.

Other than those three everyone else is unimportant and you couldn't care a less whether they live or die. Although seeing more folk getting baked or eaten by dragons is sorely missing here.

I also recall when this film came out that everyone was half expecting to see epic battles between helicopter gunships and dragons over the skies of London. Why you ask? because the films poster had that rather neat design advertising the fact. So it was disappointing not to see any of that, also disappointing not to see any real epic dragon fights a tall, just lots of flying dragons at a distance, roars, silhouettes and shadows. We finally get to see the big male properly at the end but only seconds before it gets killed, what's the point of that!?.

The whole concept is good and there are some nice moments in the film. The whole team effort of trying to kill a dragon by the Americans is quite fun to watch if somewhat ridiculous. Would you really do all that just to try and kill a dragon if you had a helicopter, lots of guns and a tank? surely you just blast it when its close by, its a pretty big target. Is the skydiving with nets really necessary? I still fail to see how that would even work, which it doesn't in the film haha. Also are dragons immune to bullets or something?? again surely a few good shots in the head, eye, legs or leg joints would at some point bring it down?, meh what do I know eh.

This film is a semi decent fantasy flick and it is fun but its just not as good as it can be. You get the impression there is an epic visual treat lurking which hasn't been fully realised. You can't even say its a good B-movie as the film had a big budget and was suppose to be a blockbuster, it did OK though.

Not bad but really lacking some punch. All I can think of whilst watching is how I could of done things differently to make the film more thrilling and in your face exciting. It just feels like such a wasted chance for a truly rip roaring fantasy, McConaughey's character just about saves the film really, without him it would of been totally dry. He goes down in epic glory too which was cool.

Final heat/fire pun...this film was definitely not as hot as it could have been, zing!.
In a world razed to the ground by a plague of dragon like creatures, a motley crew of survivors decide to strike back and hunt the sole male of the species. I'd love to have sat in on the pitch to the studio for this movie! "Well, you see, they're digging a tunnel for the London underground, and they, like, unearth these dragons that have been living there since the dawn of time..." The whole premise is of course absolutely ridiculous, but this B-movie creature feature was given the A-list treatment and what emerges is a reasonably entertaining monster mash. Some great effects and a good eye from Rob Bowman who uses the dark, flames and cinders to great atmospheric effect make for a very nice looking film, all set in some nice gothic landscapes of desolate wastelands, castles and destroyed cities. A quality cast also certainly helps, with a typically intense Christian Bale aided by the usually hateful Matthew McConaughey who is actually pretty amusing as the shaven headed, bare chested ball of testosterone who rides into town straddled across his enormous phallus ("There's only one thing worse than dragons. Americans."!) It also has a couple of really well handled action sequences, but at the same time it never quite recovers from the fact that the idea it's all built upon is so damn silly. It really could have done with a sense of humour, but as a whole it's a Road Warrior/Jaws hybrid that's pretty entertaining if you can make it past the whole dragons vs, helicopters concept.
Reign of Fire Quotes
Discussion Forum
Discuss Reign of Fire on our Movie forum!
News & Features