Shadow: Dead Riot
(2005)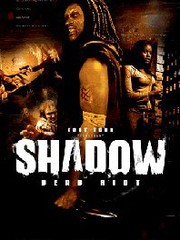 Tickets & Showtimes
Shadow: Dead Riot Trailers & Photos
Movie Info
A supernaturally-charged serial killer rises from his prison grave to seek out the sacrifice that eluded him in life in Hong Kong cinematographer-turned-director Derek Wan's exploitive mash-up of women's prison films and zombie gut-munchers. As a child, Solitare (Carla Greene) managed to escape being sacrificed to Satan by the fearsome maniac Shadow (Tony Todd), but as an adult she may not be so lucky. Incarcerated in the very same prison where the devil-worshipping killer met his ultimate fate years earlier, Solitare is forced to fight her way through the prison ranks and earn her top-dog status among the hardened female inmates. Defeating her human opponents will be nothing compared to the challenge Solitare faces when Shadow returns from the dead to stake his claim on the soul that he was denied in life, though, and as an undead army rises from the earth to assist Shadow in his evil bidding, Solitare will find that it takes more than muscle and fighting skills to defeat an opponent with the power of ultimate evil on his side.
more
| | |
| --- | --- |
| Rating: | R (for strong brutal violence and gore, nudity, sexuality and language) |
| Genre: | Horror |
| Directed By: | Derek Wan |
| Written By: | Michael Gingold, Richard Siegel |
| In Theaters: | Aug 19, 2005 Wide |
| On DVD: | Sep 12, 2006 |
| Runtime: | |
Cast
News & Interviews for Shadow: Dead Riot
Critic Reviews for Shadow: Dead Riot
Audience Reviews for Shadow: Dead Riot
It's at least three by-the-numbers flicks rolled into one. One can almost hear a pitch for this one... "People love zombie flicks, and they love kung fu flicks, and the love women-in-prison flicks, so let's do all three together!" And so they did.

What we get here is Tony Todd (Candyman) in a really, really bad dreadlocks wig as Shadow, a supernaturally-powered murderer who comes back from the grave at a women's prison for a final kung fu showdown with one of his super-powered relatives. She can kick down steel doors, she can leap tall buildings at a single bound, and, most importantly, she can beat up other women prisoners. She spends a good deal of the film doing just that as we wait for Shadow and his undead minions to start munching on things. The fight choreography is one of the best things about this flick. We also get a gigantic muscle-bound woman zombie and a flesh-eating baby zombie, though, courtesy of the prison doctor injecting inmates with some of Shadow's blood, which he's kept around for the last 20 years for just such purposes. The undead baby may be one of the worst attempts at a special effect ever. It never actually moves and it looks as much like a real baby as a rubber chicken looks like a real chicken (in fact, I suspect it may have been a novelty rubber baby toy).

But I've left out the most important part: the shower scenes. This is a women-in-prison film, too, and there must be shower scenes. About a fifth of this movie is set in a shower. There's lots of all-girl nudity. It doesn't add to the intellectual appeal of this mindless, formulaic junk, but at least it's likely to distract straight male viewers from Tony Todd's bad make-up and worse acting.

I suggest an alternative title for this one: Crouching Tiger Hidden Zombie Women Behind Bars . I'm not sure who to recommend it to. If you can't make up your mind between seeing a cheezy supernatural horror flick, a zombie movie, and a grindhouse women-in-prison flick, now you don't have to!
½
Shadow: Dead Riot follows the purest of Shakespearean tradition about a vicious murderer named Shadow (Tony Todd in a gloriously over-the-top role) whose involvement in the occult is enough to turn him into a crazed supernatural force that turns other prisoners into an undead army and almost takes over the entire prison, but fails. 20 years later, the prison is now for women, and their latest convict, Solitaire, is used (along with the other women) for experiments in obtaining the powers once used by Shadow. A lot of female prisoner showers, bad acting, sexual encounters, and humorously filmed kung-fu lends a helping hand to this already engaging story of one woman's quest for the truth. Let's also not forget an army of the undead ripping people apart, not to mention an undead child fetus powerful enough to crawl with speed and precision as it manages to amass a small body count. Those going into this film for deep-incite, intellectual thought, or for the sake of seeking a serious horror film are positively, 100% retarded. Shadow: Dead Riot brings nothing but pure, sleazy, corny fun. Director Derek Wan isn't much for story structure, yet manages to craft some engaging violence and action scenes with such a small budget. The majority of cast members in this film are better suited for doing porn, however, they work well enough to give this film's intended audience what it wants: titties, gore, and violence, which this has lots of. A definite bit of schlock, exploitation, and cheese. This film seemed to have missed the mark with a lot of its audience (who just didn't get it), however, I managed to get it, and by doing that, I had fun with this ridiculous film. Fangoria powerhouse writer Michael Gingold knew exactly what fans wanted and managed to deliver it on his end. Aside from Todd, we are also graced with some other familiar genre faces, including softcore queen Erin Brown (aka Misty Mundae), S. William Hinzman (the original zombie from Night of the Living Dead), and Captain Haggerty (the iconic zombie from Zombie). Great for laughs, but it has its thrilling moments as well.
Discussion Forum
Discuss Shadow: Dead Riot on our Movie forum!
News & Features