Skammen (Shame)
(1968)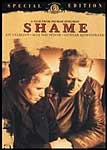 Skammen (Shame) Trailers & Photos
Movie Info
Shame is grand master Ingmar Bergman's bitter and unsparing condemnation of war - all war, regardless of which side one chooses. The story begins with two ex-musicians, Eva and Jan Rosenberg (Liv Ullmann and Max von Sydow, respectively) peacefully inhabiting a weathered house where they grow fruits and vegetables. The residence is located on a desolate, arid island in some unspecified geographic location. Many items in The Rosenbergs' house, such as the radio, aren't functioning properly, and an explosive conflict transpires in the distance. (To avoid being ideologically pigeonholed, Bergman avoids identifying either side of the struggle or the reasons for the conflict itself). The Rosenbergs remain aloof, detached and geographically removed from the struggle, but little by little, over time, various elements of the war seep into the couples' lives and force their involvement. The tumult first sets in when jet planes roar over the house; then a parachutist gets killed and soldiers turn up at the Rosenberg residence. Finally, Eva and Jan get forcibly interrogated and incarcerated. Following the complete obliteration of the Rosenberg house, Eva has sex with one of the military leaders, Colonel Jacobi (Gunnar Bjornstrand) for unspecified reasons. Although Bergman never explicitly makes it clear if Jan witnesses this, he does deliberately conceal money that he could have easily used to buy Jacobi's freedom from the other side. As the heart-wrenching tale rolls forward, circumstances force The Rosenbergs into a face-to-face confrontation with their own identities and emotions. ~ Tom Wiener, Rovi
more
| | |
| --- | --- |
| Rating: | R |
| Genre: | Drama |
| Directed By: | Ingmar Bergman |
| In Theaters: | Dec 23, 1968 Wide |
| On DVD: | Apr 20, 2004 |
| Runtime: | |
Cast
News & Interviews for Skammen (Shame)
Critic Reviews for Skammen (Shame)
Audience Reviews for Skammen (Shame)
"Skammen" ("Shame") is less famous than some other Ingmar Bergman classics, but it's among his finest work. One of many Bergman films shot on his home island of Faro (others include "Hour of the Wolf," "Persona," "Scenes from a Marriage" and "Through a Glass Darkly"), "Shame" is actually a war movie with a surprising amount of "action" by Bergman standards. Though it was reportedly plagued by budget problems, the parade of shell explosions, gnarled corpses and hulking military vehicles marks a film much splashier than the usual drawing-room character study.

The casting is nothing new -- Bergman regulars Liv Ullman, Max Von Sydow and Gunnar Bjornstrand again dominate. Ullman and Von Sydow play Eva and Jan Rosenberg, two former classical musicians who have been married for several years. Their quiet life consists of puttering with domestic chores, selling homegrown berries and lazily sharing each other's company (for better or worse -- their erratic relationship often drops into ugly bickering). But their simple world is thrown into chaos when enemy planes suddenly buzz overhead, announcing a violent attack. Land troops soon follow, posing a dramatic threat to the couple's home and lifestyle. Though Eva and Jan are politically neutral, they are interrogated and taken prisoner by the invaders (who self-righteously label themselves "liberators"). The two veer in and out of danger as the destruction increases. Scared and bewildered, they struggle to be compliant with their captors, but the unstable Jan is tempted to join the madness. His deterioration is disturbing, and the film's unresolved ending offers no assurance of a secure future for anyone.

The embattled country is never named (the enemy speaks the same language, suggesting an internal conflict), nor are the contentious issues ever mentioned. This is not a film about policy, but a more timeless story about war's toll on civilians.

Sven Nykvist's cinematography is typically exquisite, capturing both intimate dialogue and wartime spectacle. "Shame" is among Bergman's last black-and-white films, and the poetry of Ullman's and Von Sydow's weary faces is compelling even without the story. Ambivalent Bergman fans should be forewarned, however -- the action slows down considerably with about 40 minutes to go, and returns to the bleak, tortured conversation that is his trademark.
½
[font=Century Gothic]"Shame" is a 1968 movie from Ingmar Bergman about Jan(Max Von Sydow, who when wearing black rimmed glasses, sort of reminds me of Woody Allen) and Eva(Liv Ullman) who are classical musicians and have been married seven years. The country they live in has been in the grasp of civil war for the past four years. For the the past few years since the orchestra collapsed, they have been eeking out a subsistence living on a farm. But now the war is arriving on their doorstep, threatening their lives even more.[/font]

[font=Century Gothic]"Shame" is slightly atypical for a Bergman film, in that the violence is physical as well as emotional but there are still some of his trademarks on display.("The Silence" also took place during a war.) It is still as insular as anything he else he has directed. The movie is still about two characters in a relationship as much as any other film he has made. There are a few allusions to dreams here which is a sign that the characters cannot handle the reality of the situation. Bergman does a very good job in displaying the damage that is done to peoples' lives under dire circumstances but it would have helped if the characters were simple farmers, and not artists. The emotional distance that Bergman uses to keep his characters at arms' length hurts the movie and impairs the viewer from really caring about them. [/font]
Discussion Forum
Discuss Skammen (Shame) on our Movie forum!
News & Features