She Hate Me
(2004)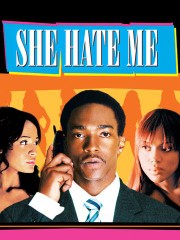 She Hate Me Trailers & Photos
Movie Info
Harvard-educated biotech executive John Henry "Jack" Armstrong gets fired when he informs on his bosses, launching an investigation into their business dealings by the Securities & Exchange Commission. Branded a whistle-blower and therefore unemployable, Jack desperately needs to make a living. When his former girlfriend Fatima, a high powered businesswoman--and now a lesbian--offers him cash to impregnate her and her new girlfriend Alex, Jack is persuaded by the chance to make "easy" money. Word spreads and soon Jack is in the baby-making business at $10,000 a try. Lesbians with a desire for motherhood and the cash to spare are lining up to seek his services. But, between the attempts by his former employers to frame him for security fraud and his dubious fathering activities, Jack finds his life, all at once, becoming very complicated.
more
Rating:
R (for strong graphic sexuality/nudity, language and a scene of violence)
Genre:

Drama

,

Comedy

Directed By:

Spike Lee

Written By:
Michael Genet, Spike Lee
In Theaters:
Jul 28, 2004 Limited
On DVD:
Feb 1, 2005
Box Office:
$81.4k
Runtime:
Cast
News & Interviews for She Hate Me
Critic Reviews for She Hate Me
Audience Reviews for She Hate Me
Tsubaki Sanjuro
Super Reviewer
Aloha, Spike, what is up with this? No worry, shrimp curry, I've had some dry spells myself.
½
[font=Century Gothic]In "She Hate Me", John Henry Armstrong(Anthony Mackie) is a 31-year old single vice-president at an up and coming biotech company. He is sad because he is not yet a father. He is even sadder when his friend, Dr. Shiller, jumps out of his 40th floor office to his death. A new wonder drug that the company has been promoting as a possible vaccine for AIDS has been denied approval by the FDA. There is a cover-up to prop up the stock price but Armstrong decides to blow the whistle. He is promptly fired, has his assets frozen and is under investigation by the SEC. Armstrong's ex-girlfriend, Fatima(Kerry Washington), who left him for another woman, just happens to pop back into his life with an offer he cannot refuse - father her child, her lover's child and any other lesbians within a 30-mile radius they can find in exchange for $10,000 for every pregnancy. Meanwhile, there is an unprecedented turkey baster shortage...[/font]

[font=Century Gothic]Spike Lee started off as a provocative young filmmaker with plenty to say on matters of race in America. Early on in his career, he made two great movies - "Do the Right Thing" and "Malcolm X." But the quality of his films have fallen as of late - "Summer of Sam" is an interesting mess; "Bamboozled" is much too heavy handed and could have used a lighter touch and "25th Hour" misses an easy shot to take on the draconian New York Rockefeller drug laws. [/font]

[font=Century Gothic]"She Hate Me" consists of a whole morass of ideas gone horribly awry:[/font]

[font=Century Gothic]One of the targets is capitalism but if that is so, then why focus on an executive instead of somebody of more proletarian status. Wouldn't a vice-president have some responsibility for his company's shenanigans?[/font]

[font=Century Gothic]Hints about personal responsibility abound. The movie certainly disapproves of the whole pregnancy scheme and refers to it as immoral but Armstrong is providing a valuable service for which he is amply compensated. [/font] And the Bible did say,"Be fruitful and multiply, and replenish the earth." Genesis 9:1.

And then there is the asinine Mafia subplot...

Also, the sperm were funnier in "Everything You Always You Wanted to Know about Sex..."

In conclusion, the movie might have worked if it had been simpler, shorter, and much more realistic and down to earth. At the end of the day, I'm not even sure what Spike Lee was trying to say.

Note: Ossie Davis also appeared in a few episodes of "The L Word" which had a much more credible pregnant lesbian subplot. His roles in "She Hate Me" and "The L Word" were some of his last roles before he died.
Discussion Forum
Discuss She Hate Me on our Movie forum!
News & Features